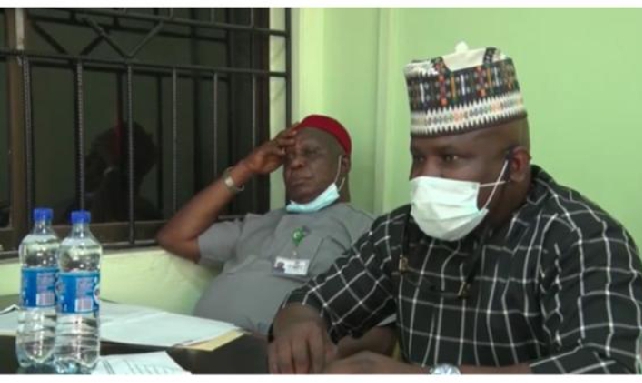 The Delta State House of Assembly Committee on Lands, Survey and Urban Development has asked the MDAs under its supervision to ensure that their incomes and expenditures comply with the relevant financial laws of the state.
The Chairman of the Committee, Hon Reuben Izeze gave the advice when officials of the ministry led by its Commissioner, Mr Chuchil Amagada appeared before the Committee to defend its 2021 budget estimates.
The Chairman, House Committee on Lands, Survey and Urban Development, Hon Reuben Izeze was reacting to some spendings made by the ministry as it defended its incomes and expenditures in the outgoing financial year.
The Lawmaker explained that expenditures must comply with the law, stressing that it was a crime to spend outside budgetary provisions.
Hon Izeze pointed out that in one of the heads in the 2020 budget, the ministry spent thirty three percent over the budgetary allocation and warned against a repeat of such in the 2021 budget.
According to him due process must be followed at all times, saying that there were no short cuts to budgeting procedures as the laws backing expenditures must be observed.
The Lawmaker flanked by other members of the Committee, commended the ministry for its high performance in revenue generation, disclosing that the ministry excelled above the projected IGR.
Hon Izeze called for more interface between the Committee and the ministry as they must synergies to move the state forward.
The Commissioner in charge of the ministry, Mr Chuchil Amagada said the ministry had approved capital expenditure of One point two billion in 2020 budget but was revised downward to four hundred and nineteen million as a result of global Covid 19 pandemic.
He stated that the ministry realized for the state government, Nine Hundred and Twenty Two million naira above the projected four hundred and sixty four million from January to October this year.
Mr Amagada explained that the ministry have decided to raised the revenue budgetary projection for 2021 to an ambitious but realistic estimate of two point seven billion naira.
He disclosed that the projection was borne out of the conviction that the current statewide property enumeration program would massively increase the IGR from infrastructural Levy and Grand Rent, among others.
The Commissioner solicited for the cooperation of the House committee.