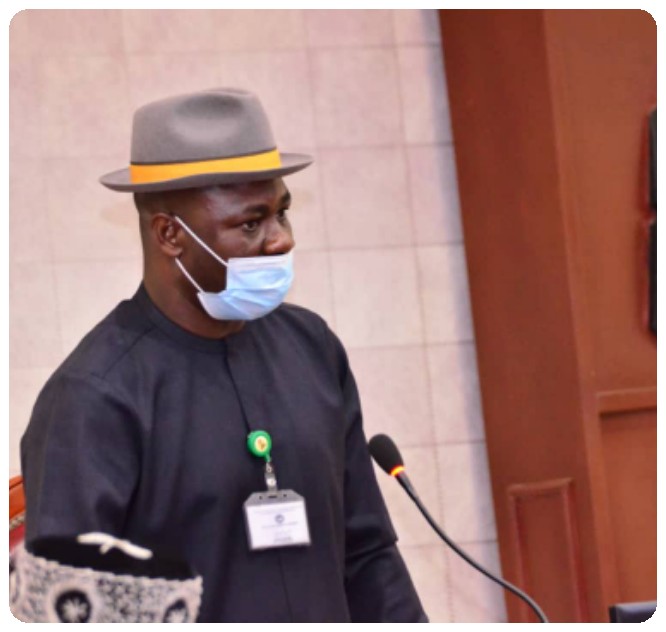 Dying Fishes: Guwor Expresses Joy Over Okowa's Intervention On House Resolution.
The Member Representing Warri South West Constituency in the Delta State House of Assembly, Hon Guwor Emomotimi has expressed appreciation to Governor Ifeanyi Okowa for acting upon the resolution of the State Legislature on dying fishes in the rivers.
Hon Guwor at Tuesday's plenary of the House presided over by the Speaker, Rt Hon Sherrif Oborevwori, announced that the state government on Monday this week, distributed relief materials to victims of affected communities in Warri SouthWest and others.
Coming under personal explanation, the Lawmaker stated that government intervention by sending relief materials to communities that were under the siege of a disease that was killing fishes along the shore lines of the rivers, was a part of the resolution of the House and commended the state government for acting upon the resolution.
Hon Guwor whose motion brought under matters of urgent public importance led to the resolution, also commended the Speaker and members, especially the House Committee on Legislative Compliance for good follow up after the motion was adopted.
He said most of his constituents benefited from the distributed relief materials, stressing that the items would go a long way to alleviating the effects of the sad and unexpected development in the riverine communities.
According to Guwor, the main occupation of his constituents is fishing, emphasizing that the socio-economic well being and livelihood of the people was disrupted as a result of the impact of the environmental crisis.
The Warri SouthWest Lawmaker while speaking further on the development, however appealed that the other part of the resolution be implemented to prevent impending outbreak of another deadly pandemic as well as save the eco system of the affected communities from total extinction.
According to Guwor, prevailing on the President to as a matter of urgency to direct the Federal Ministry of Environment and its parastatal NESREA to carry out tripartite joint investigation on the cause of the rising cases of dying fishes along the shore lines of River Forcados and Escravos River in the state, was imperative.
The Lawmaker noted that such comprehensive investigation was the best way to go to unravel the miseries behind the unfortunate incident and best way to forestall reoccurrence.
Hon Guwor commended the public enlightenment and sensitization campaigns carried out on health hazards and harmful implications of consumption of the dead fishes by government authorities and well spirited individuals.
The Lawmaker who is the Chairman, House Committee on DESOPADEC, stressed the need for sustainable efforts to ensuring that citizens in the riverine communities live in a cleaner and healthy environment devoid of pollution.
Hon Guwor had named areas worst hit by the ugly development to include Ekemetagbene in Bomadi local government area, Akparemogbene, Oyangbene and all communities in Ogulagha and Iduwini kingdom in Burutu local government area as well as the entire Gbaramatu kingdom, all Ugborodo and Orere communities in Warri South West and Ogheye and other communities in Warri North local government area