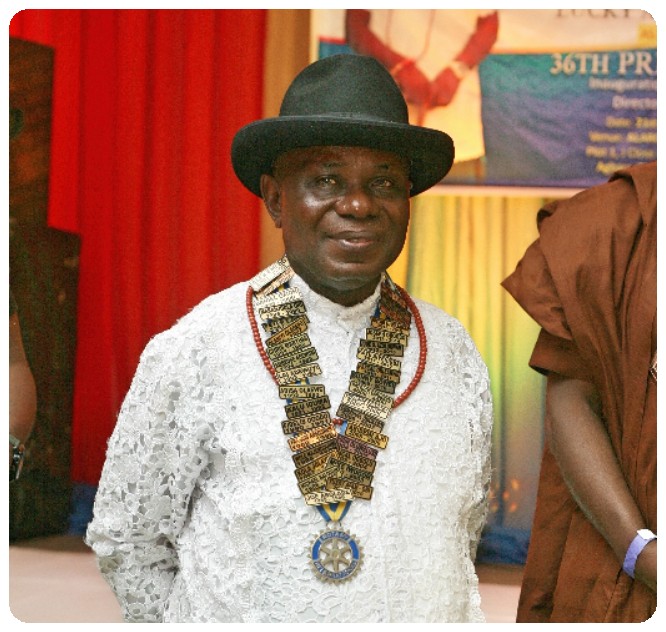 Chief Lucky Arhere, a traditional Chief of Agbarho kingdom, Delta State and a prominent member of the prestigious Urhobo Social Club Lagos (USCL), has assumed office as the new President of the Rotary Club of Agbara, District 9110, at an investiture and board inauguration ceremony held last weekend at the Alarco Hotels & Suits in Agbara, Ogun state.
Chief Arhere, who is currently in the hospitality, investment and chain management consultancy, attained the Presidency of the prestigious club having risen joined Rotary Club in 2004 and was induction as an honorary Rotarian in 2008.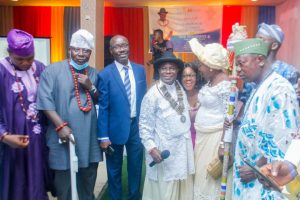 In his acceptance speech, Chief Arhere expressed his profound gratitude to the members, Board of Directors and the League of Past Presidents of the club for entrusting him with the presidency of the club and granting him the platform to serve humanity in the highest attainable capacity at the Club level. "Being called upon to lead the club in the midst of eminently qualified and very experienced members can only be by divine providence hence I wholeheartedly accept to serve as the Rotary Open Opportunities President of the Rotary club of Agbara," he said.
 "My profound gratitude goes to Rotarians across the world who are are connected by a unique feature and devotion, that is, their passionate desire to dedicate their 'Time, Talent, Treasure and Thinking' towards rendering selfless and sacrificial services to mankind without counting costs or returns.
"The Rotary International Theme Propounded by Rotary International President (Rotn Holger Knaack) for this Rotary Year 2020/2021 is "Rotary Opens Opportunities." The theme is a reminder of the fact that Rotarians across the globe devote their resources towards giving amazing opportunities to all people regardless of socio-cultural, religion and political barriers," he added.
"Rotary is a key that opens opportunities for the less privileged people across the world in seven areas of focus including Maternal and Child Health, Disease Prevention and Control, Peace and Conflict Resolution/Prevention, Water and Sanitation, Basic education and literacy, Economic and Community Development and Planet Earth. Such opportunities are evident in the good works of Rotary which has kept as at the topmost spot amongst charitable organizations globally for a consistent period of 105 years," he elucidated.
Chief Lucky Arhere is a fellow of the Institute of Chartered Accountants of Nigeria (ICAN) and the institute of chartered Secretaries and Administrators London (ICSA). He is an alumnus of the Institute for Management Development (IMD) Lussaine. He holds a Higher National Diploma in Business Administration from Yaba College of Technology Yaba and a Post Graduate Diploma in Supply Chain Management. He attended many management courses and seminars in Nigeria and abroad.
He had a chequered working career in Nestle, the world number one food company where he held several management and senior management positions and retired as Regional Manager Economic & Customs Affairs, Nestle Central and West Africa Region.
He serves on the boards of Corona Secondary School and some other companies and institutions. He is a Catholic Knight and a member of the honoured Order of the Knights of St. Mulumba Nigeria (KSM) a Catholic charity and service organisation. He is a Patron of and benefactor to many societies and clubs. Rotarian Lucky Arhere is passionate about service to God, humanity and the community. He is a community leader, a humanitarian and a promoter of peace and justice. He is the current Chairman of Agbara Estate Residents Association (AERA) and a member of the board of Trustees of OPIC Estate Residents Association (RAOPIC) and the Lagos Branch President of St. Enda's College, Agbarho.