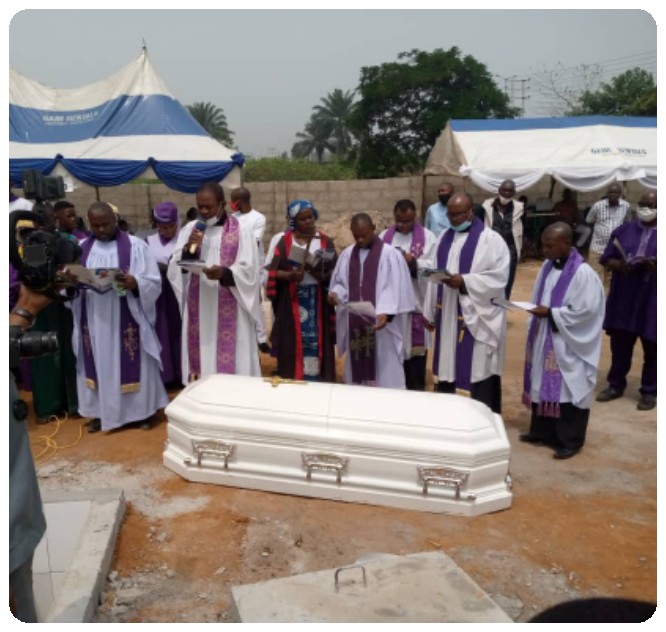 By Patrick Ochei
Members of the League of Professionals for Strategic Advocacy (LPSA) were at Elele in Rivers State, where they bade the late wife of the FRSC Delta State Sector Commander, Mrs. Christiana Okiemute Wihioka farewell.
The funeral service took place at St. James Anglican Church Elele, after which she was laid to eternal rest in her family compound along Port-Harcourt road, on Saturday 23rd January, 2021.
Both at the church during funeral service and by her graveside, the officiating Minister, Ven. Promise Igwe (Archdeacon) called on mourners to weep no more for a virtuous and Godly woman had gone to be with her Maker.
Instead, the Minister called on those still living to dedicate their lives to God in totality, adding that God desires a people who would serve Him in truth and in spirit.
The priest said though it was painful that Mrs. Wihioka died at a young age of 57, it pleased God to allow her join Him in heaven.
Ven. Igwe therefore, advised the living to seize the opportunity available to them to give their lives to Christ as the only channel of having eternal life at the end of time.
In their condolence message to the bereaved husband, Mr. Uchechukwu Peter Wihioka, members of the League implored him to take solace in the fact that God had allowed his lovely wife to depart at this time.
They encouraged him to be strong for himself, children and society still looking up to him.
Members present at Elele amongst the League included Prince Obaro Unuafe, Mr. Pius Mordi, Comrade Felix Ofou, Mr. Fred Akpewe, Comrade Patrick Ochei, Comrade Onome Tanno, Amb. Vida Modelo, Prince Romeo Awah and Ms. Patience Asifor.
Also adequately on ground to perform the traditional rites of burying their daughter were members of the Unuafe/Iyede family of Isoko where the deceased hailed from.