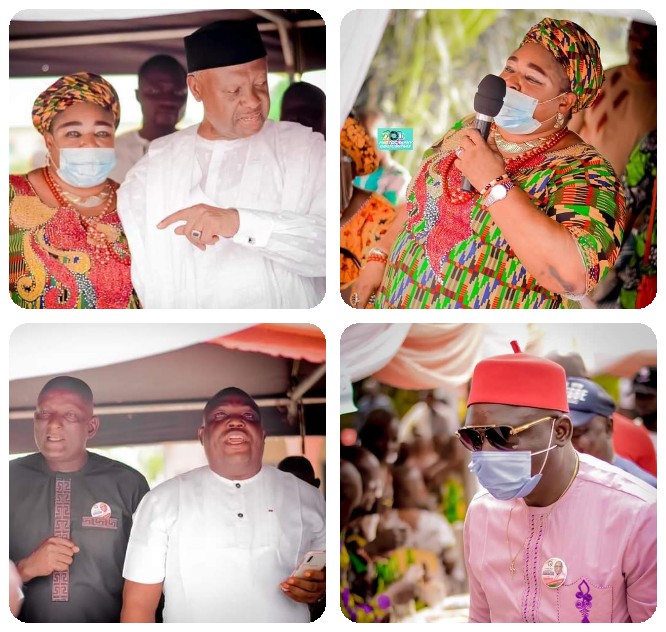 #NewsRazor/Latimore
Leaders of the Peoples Democratic Party, PDP, in Ethiope East Local Government Area of Delta State, over the weekend sent forth the former Council boss, Chief Mrs Faith Majemite, after serving two remarkable tenure.
The event which took place at the expansive country home of Chief Sunday Okoro, in Kokori, on Saturday 24th January, 2021, afforded the LGA College of leaders the opportunity to reflect on Majemite's public service, and subsequently rated her tenure"Excellent," considering the multifaceted socioeconomic realities that pervaded the state and the nation under the APC national government.
Ethiope East LGA party leader, Chief Bernard Edewor said Majemite was never found wanting during her two tenure, adding that she displayed capacity, boldness, responsive and responsible leadership during crisis situations; as can be seen from her enviable roles in restoring peace to communities once bedevilled by youth restiveness and criminal activities.
He further posited that Majemite, it was, who tackled Kokori and Abraka youth restiveness wherein the military kept vigil for a long time, as well as provided proactive leadership for the fight against Covid-19 pandemic cum flawless distribution of palliatives across the LGA, as at when due.
"She also ensured that councillors and political appointees participated actively in all party activities and programmes including electioneering campaigns and other civic responsibilities of eligible votes within the council jurisdiction.
"We are indeed proud of her stewardship, spanning six years and we shall not hesitate to support her for a higher elective office, whenever she indicate interest in the future," Edewor said.
Former Ethiope Federal Constituency representative at the National Assembly, and serving Senior Political Adviser to the governor of Delta State on Community Enterprise Development, Olorogun Sunny Akpodiogaga Emeyese, corroborated Chief Bernard Edewor's take on Majemite, pointing out that as the first female elected council Chairman in the LGA, she performed creditably, considering the many battles she fought in restoring peace at a time all hope were lost because of the high level of criminal activities that confronted some communities.
Emeyese further asserted that Majemite is a woman in a man's world, in terms of political willpower, political mobilization capacity, participation in all social and official party functions and above all, her humility and respect for party leaders before and during her tenure.
"Majemite displayed strength of character, provided the required capacity and resilient in dealing with issues and ensuring that the council area enjoyed dividend of democracy through negotiations, partnership with the state government and college of leaders.
"She is a woman of substance by all standards and I urge her to continue to be a good ambassador of our LGA, the state and the Okowa administration, going forward," Emeyese said.
PDP Candidate for 2021 forthcoming local government election in Ethiope East LGA, General Augustine Ogedegbe, commended Majemite for being a core PDP loyalist, saying that she is ever ready to do everything and anything positive, and lawful to ensure that party is not only supreme, but that party interest far supersede group or individual interests.
Ogedegbe noted that Majemite has been around the political terrain since the formation of PDP and have worked reasonably well with party leaders across board, making her a key player in party politics and in nation building.
"Our immediate past Council Chairman, Mrs Majemite, was instrumental to my emergence as the party's candidate for 2021 council poll, especially for joining forces with other major stakeholders to align with the party leaders decision in this dispensation.
"I will build on her achievements at the council because government is a continuum. I humbly urged her to support me during and after the council elections, and as partner in progress for the uncommon development of the LGA," Ogedegbe added.
Chief host of the event and Majemite's benefactor, Chief Sunday Okoro, who doubles as Chairman of Faith Majemite Solidarity Movement, FMSM, said the event was put together to appreciate the enviable roles she played in bringing dividends of democracy to Ethiope East during her six years tenure as council Chairman.
Okoro, said Majemite stood firm for the LGA during challenging times and proved her worth as a strong leader by consistently defending and protecting her constituents through multifaceted actions and inactions, which earned her the front role in local government administration.
"Her capacity and proactive leadership shall be remembered for a long time to come, and I urged her to take a step further to indicate interest for higher elective office, come 2023," Okoro said.
In a related development, the Executive Assistant on Communications to the governor of Delta State, and Fellow of the Civilian Institute of Democratic Administration, fcida, Dr Fred Latimore Oghenesivbe, Esq in a statement on Tuesday, 26th January in Asaba, described Faith Majemite as a super political Amazon; a strategic political actor knowledgeable in grassroots politics, and very skillful in systematic electioneering chess game.
He asserted that Majemite has proved her potentials as a focused and pragmatic political figure, with diverse strategies tailored towards party interests, driven by uncommon passion for dynamic maneuvers targeted at achieving the overall political objectives of the majority, the party, PDP, and without regrets, fear or favour.
"Majemite has contributed to the success of several political actors and have also won political wars which ordinarily would sink amateur politicians, adding that she will continue to be relevant in the scheme of things, especially as we navigate into another critical change of political leadership in 2023.
"Her landmarks as Council Chairman speak volumes and will certainly pave way for higher elective office in the near future.
"I wish my amiable sister and political benefactor, the very best that life offers. I promise to always have her back, going forward," Oghenesivbe assured.