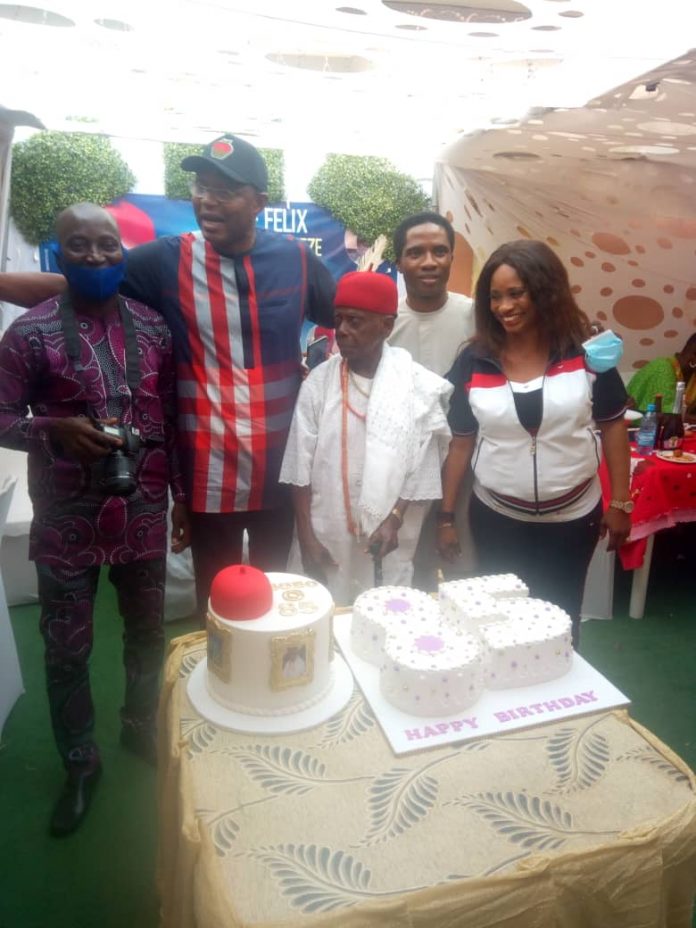 By JOHNSON EBIGIDE
When one passes away and the family announces ones obituary as a celebration of life, it leaves some tinges of doubt on such philosophy. How can a dead person be celebrated in life !?
When one passes on to eternity, it is believed that one has no say again in human affairs. It is true that it is what a bird swallows that it carries away in flight, just as a man's sojourn in life is not measured by how many years he lived on earth, but how he impacted on humanity.
It is perhaps on that realisation that the children of Prince Felix Nwogbolu Emelieze of the Royal Family in Ogwashi-Uku Kingdom in Aniocha South Local Government Area of Delta State decided to celebrate the patriarch to mark his 85 fruitful years on earth.
Born on January 20, 1936, Prince Emelieze, after his elementary education and acquisition of the revered standard six and technical skills , worked briefly as a civil servant in Lagos before joining the Leventis Technical, Iddo House, Lagos.
A lover of the western education, Prince Emelieze believes in gender equality, particularly in education. He is of the view that given the right education and opportunities, the girl child would perform as excellently well as her male counterparts in any human endeavours.
Prince Emelieze is married to Princess Veronica Obi Emelieze and the union is blessed with seven children; six male and a female, all of whom got equal opportunities to excel in life.
At the well attended birthday bash of the patriarch in Asaba, he was the envy of all, as they prayed to live a fruitful life as that of Papa Emelieze, who, even at 85 years, was so energetic that he could dance gracefully to the rhythm of the music ! No wonder, he was lovingly addressed as the " Energetic Bobo " !
As he placed his hands on all present to receive the blessings of life, it reminds one of the blessings of God to mankind to go and posses the earth; it was an awesome experience !
The only female child of the celebrant, Mrs Florence Ngozi Nwabuowu, Public Relations Officer with the Delta State Ministry of Finance and Vice Chairman of the Nigeria Union of Journalists (NUJ), Information Chapel in the state, maintained that there was the need to celebrate her father when he was still alive, noting that that singular recognition would elongate the life span of the sage. She said that her father gave her everything that she needed to succeed in life, adding that it was necessary to reciprocate the kind gesture of the patriarch of the family while he was alive.
Present at the occasion were the Commissioner for Finance, Mr. Fidelis Okenmor Tilije and some other commissioners in the state, the Director of Information in the state, Mrs Theresa Adiabua Oliko (JP), The Vice Chairman of NUJ, Delta State Council, Comrade Salvation Ogono, many top government functionaries and well wishers.
This is also wishing Papa more healthy years ahead to witness such wonderful celebration of his existence on earth !