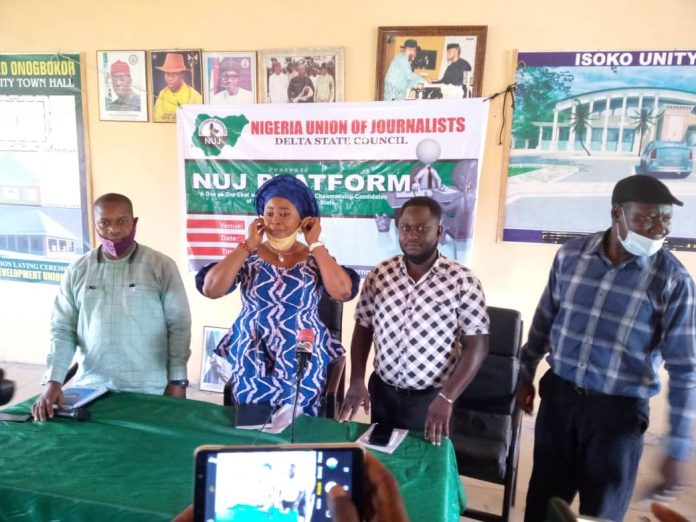 By Patrick Ochei
The All Progressives Congress, APC Chairmanship candidate for Isoko South Local Government Council election, Hon. Dcn. Mrs. Hoplyn Eruore Ayu has affirmed that she is a woman with clean political history, adding that she does not have any political godfather.
Speaking during the Delta NUJ Media Engagement Programme with Chairmanship candidates in Isoko on her plans and programmes ahead of the Delta Councils' election coming up on March 6, 2021, Hon. Ayu authoritatively affirmed she is a candidate to beat.
She listed her 3-point agenda for Isoko South to include Peace and Security, Quality Primary Healthcare Delivery and Grassroots Empowerment and Development.
According to her, "I have always been a reference point as a woman in politics. I am different, I am known and I can never be a negative influence in politics.
"Nature abhors nuisance, not to talk when it has to do with a woman. But I must tell you that there are clean women in politics. I am one of them and I must do everything in my capacity and upbringing to maintain that history.
"I know I will win this election. I am not imposed on the people. We did primaries and I won. I am the candidate of the people.
"That is why we have mapped out plans to vigorously key into the agricultural policies of federal government. We will work with farmers to create job opportunities in our communities.
"We are also going to take our healthcare delivery policy seriously by revamping the decayed facilities and discourage nonchalance attitudes to work.
"On this note, I will stand for Local Government Autonomy because that is what the country needs to change the narratives at the grassroots level of governance. So I will speak for the people and make sure I am not manipulated to spend the Council's money according to the dictates of the state or anybody. I have no godfather; I got to where I am today as a result of hardwork and diligence", Ayu insisted.
Meanwhile, the NUJ Chairman, Comrade Michael Ikeogwu assured the APC candidate that the NUJ is for everybody and for nobody.
He posited that the essence of the media engagement with the Chairmanship candidates is to play the constitutional role of the Watchdog while ensuring that those who would lead at the Local Government levels are held accountable going forward.
He further stressed that the NUJ would be pleased to work with leaders who are coming to strengthen the Local Government Administration, rather than those who are imposed, do not recognise procedures of governance and carry themselves with the toga of confidence that they had won election already. He said most of these people end up not achieving anything, insisting that the media would not fold its arm to watch such continue to reign supreme in our society.