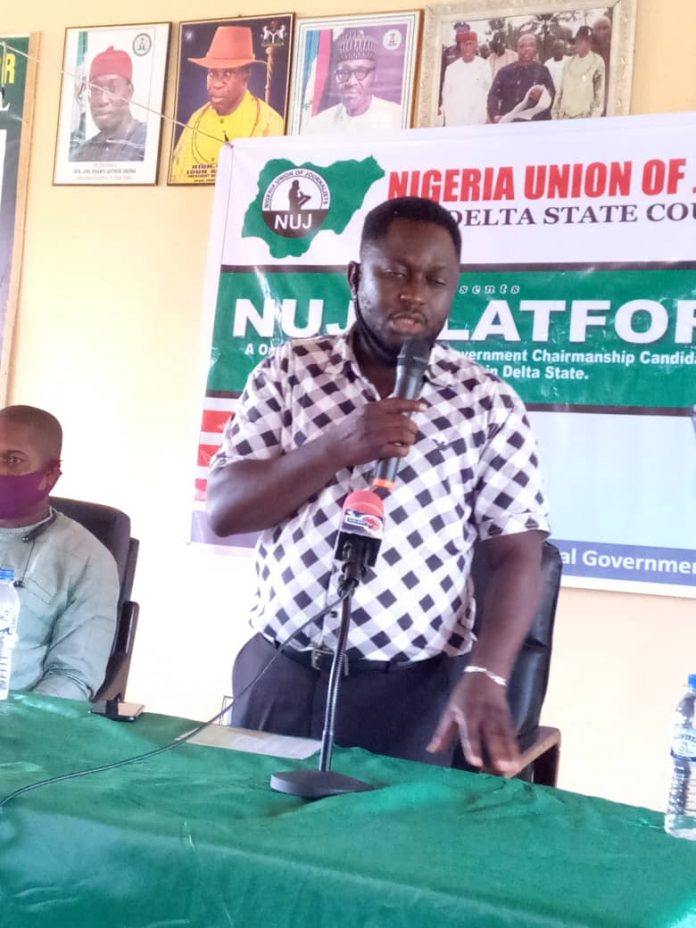 By Patrick Ochei
The APC candidate standing for the March 6, 2021, local government election in Delta State, Hon. Cornelius Ugo has said that his Government would be the Government of the people, adding that he would support Local Government Autonomy without being afraid of anybody to speak up.
He made this assertion Friday 12th February, 2021, at the Isoko Development Union's Secretariat, Oleh while addressing the Nigeria Union of Journalists (NUJ), Delta State Council during their engagement with the political parties' Chairmanship candidates tagged "NUJ Platform".
Ugo affirmed that he had what it takes to beat every other candidate in the election, boldly saying he remains a grassroots politician anytime and anyday.
He reeled out his blueprint on what he would do for the Isoko North Council when eventually elected as Chairman.
First, he said he would engage the primary school teachers in training and retraining to meet up with modern standards of teaching while also providing a conducive environment for learning.
Second, he said he would nip youth restiveness in bud by engaging them in skills acquisition, sports development and positioning for productive engagement.
Thirdly he said he would provide 3000 persons with micro credit/grant to start a business that would take between N20,000 to N50,000 to start.
The Chairmanship hopeful also said his administration would engage the Traditional Rulers, President Generals of communities and elders on peace building and development.
Among other items in his manifesto, Hon. Ugo assured to give attention to employment, encourage inter-community transportation and make security topmost of his agenda.
In a nutshell, the APC candidate appreciated the NUJ for the rare privilege to be assessed and to showcase his programmes. He said it was time to pay attention to things that matter and are of best interest to Isoko North people, than bother on jamborees that have become the norm of the ruling party.
He posited that he would use his connections and contacts and the fact that the local government area is a Hostcom, to generate revenue and build capacity for good governance.
Earlier the NUJ Chairman, Comrade Michael Ikeogwu had told him that the Union had reawakened that consciousness to play her constitutional role of holding the Governments and their functionaries accountable, positing that the local government administration had remained ineffective and inefficient for too long.
He urges the candidate to prove his worth, be evaluated and rated in performance at the end of the supposed tenure.