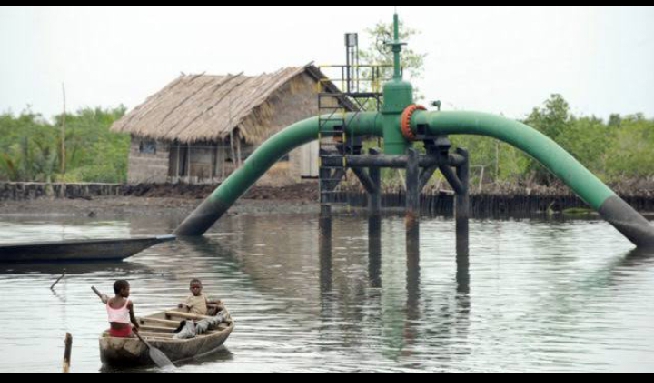 Delta Host Community Calls On Okowa, Police, Others To Arrest & Prosecute Imposters
The Chairman, Okia Community,Burutu Local Government Area of Delta State, Mr. Pius Gbeneyei, has called the Delta State Government to treat as criminals those who threatened to disrupt the activities of Sterling Exploration & Energy Production Company Limited (SEERPCO) as they are not known by the company's host community.
Gbeneyei , made the call while speaking with our reporter in reaction to a publication on page 30 of Vanguard Newspaper edition of Friday, February 12, 2021, with caption, "We won't be intimidated by your delay tactics, host communities warns SEEPCO," credited to one Mr. German Irou.
Okia Community Chairman, said there is no kingdom called Kou and Agge Communities, neither is there any group called Agge Federated communities in Delta State but in Ekeremor Local Government Area of Bayelsa State, wondering why a community in neighbouring Bayelsa State could be issuing threat notice to a company operating in Delta State.
He reminded Mr. German Irou who in the said publication claimed to be the Chairman of Agge Federated Communities that the land upon which SEEPCO operates belongs to Okia Community in Burutu Local Government Area of Delta State and not Agge as he (German) would want the public to believe.
"To put the record straight, there is no kingdom call Kou nor Agge community in Burutu Local Government Area but in Ekeremor Local Government Area of Bayelsa State. We took them to court when they made attempt to cross to claim our land and we won. We are in Appeal Court in Asaba where they went to challenge our resounding victory and we are waiting for judgement."
"Okia Community where SEEPCO operate is in Burutu Local Government Area of Delta State. We are not federated with any Community. We are an autonomous community. Any meeting said to have been held in respect of SEEPCO operation in our community without our knowledge is illegal, fraudulent and null and void."
"I hereby call on the Delta State Government and the Commissioner of Police, Delta State Command to arrest and prosecute any individual or group of individuals threatening to stop SEEPCO operations in the state over a purported GMoU. We are the host community to SEEPCO."
Gbeneyei appealed to well meaning citizens of Burutu Local Government and Delta State in general to join forces with Okia Community people to resist any attempt for strangers to come a cause mayhem in the state because of natural resources located on the land.