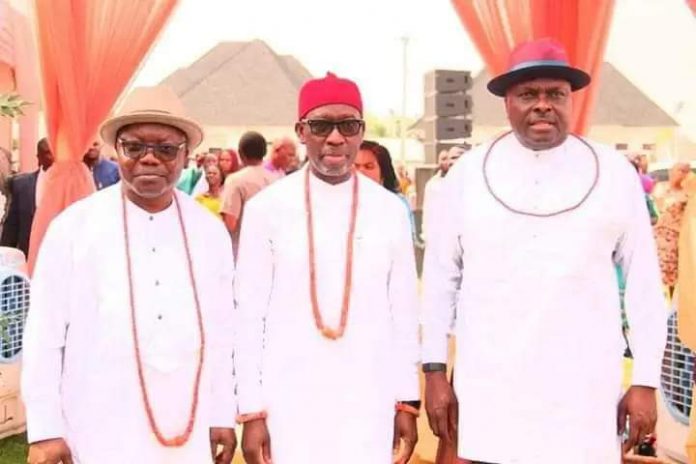 By Fred Latimore Oghenesivbe Esq
#eacgovdelta
Certain posts by some overzealous and over-loyal social media aides on social media platforms in the last couple of days tend to paint a negative picture of misunderstanding or acrimony among leaders over the choice of candidate to fly 2023 governorship flag of the Peoples Democratic Party, PDP, in Delta State.
These folks are simply "over-loyal" and it must be stated clearly and unequivocally too, that there is no iota of truth in rumours making the round that there is a major disagreement or coded acrimony over who becomes the party's candidate in 2023.
It is the party's delegates that will vote to elect our gubernatorial candidate.
The leaders and governorship aspirants are in good standing, friendly to one another, and no ruffled shoulders. At a recent function in Owa Alero, two of the aspirants, Rt Hon Sheriff Oborevwori and Olorogun David Eddvbie were seen exchanging warm pleasantries laced with hilarious laughter clothed in brotherly love.
At the same event, which was the traditional marriage ceremony of the daughter of our amiable platinum governor, Senator Dr Ifeanyi Arthur Okowa, we saw the two past governors, Chief James Ibori and Dr Emmanuel Uduaghan dinning and wining with Governor Okowa, in smiles and mutual respect for one another.
It is therefore a mere waste of time for any political actor or media aide to think that there is open or decoded friction among the leaders and the aspirants. No, nothing like that, please.
At Ughelli South Consultation, Senator Emmanuel Aguariavwodo, a governorship aspirant supported Rt Sheriff Oborevwori's colanut for the elders with the sum of N100,000. This is it, playing politics with all sense of humour and decency.
In 1999, 2007 and 2015 PDP conducted governorship party primaries to elect guber candidates. 2023 is another year of change of leadership and there shall be party primaries in May, this year.
There was no consensus governorship candidate in previous primaries and we still do not have a consensus candidate as of today. The field has been levelled to ensure credible primaries across board.
And in the light of the above, leaders of our party resolved in two previous stakeholders meetings that all aspirants must test their popularity irrespective of political caucus or political family they belong within the larger PDP family.
Politics is a game of interest which is why the state party leader and governor, Senator Dr Ifeanyi Arthur Okowa, has assured all interested parties that there shall be free, fair and transparent party primaries to protect and to guarantee the interests of stakeholders within PDP family. This is the way to go and we are sailing without any storm.
Social Media Aides to our leaders and aspirants must of a necessity focus on selling and projecting their preferred governorship aspirants from now till the day of primaries, and at the end of it all, one lucky fellow will definitely emerge as PDP gubernatorial candidate for the 2023 election, and we shall immediately collapse structures to deliver the candidate.
Media aides should stop deceiving themselves, the leaders and aspirants are united and no overzealous party faithful should stop painting negative picture of acrimony or misunderstanding. Our multifaceted political interests, as far as governorship aspirants are concerned will be harmonized after primaries.
Get excited, preach love, unity and above all, project your aspirant devoid of mudslinging.
PDP …Power to the People.