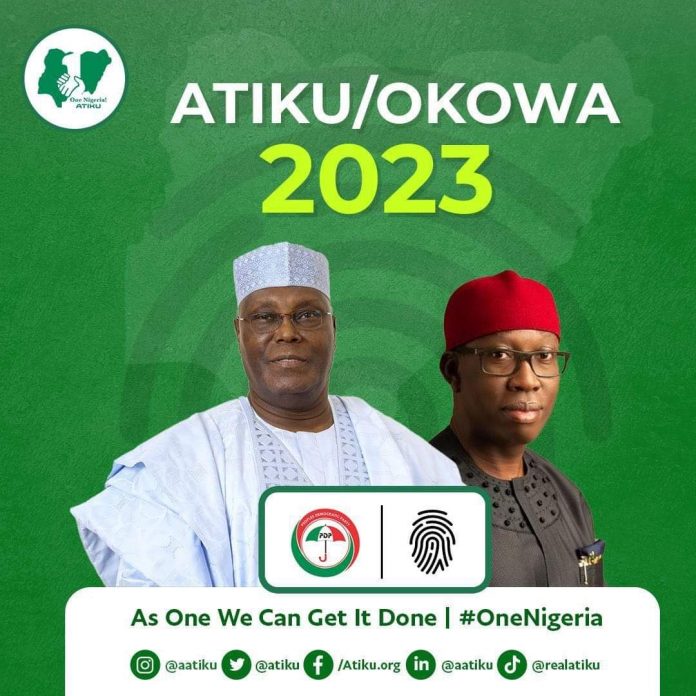 By Fred Latimore Oghenesivbe Esq
#eacgovdelta
Vice Presidential Candidate of the Peoples Democratic Party, PDP, Senator Dr Ifeanyi Arthur Okowa, by virtue of his new status has become one of the major stakeholders in the affairs of Nigeria, and very much prepared to hit the ground running.
In his first broadcast to the nation over the weekend, Alhaji Atiku Abubakar's running mate, Okowa, appealed to all well meaning Nigerians, PDP party faithfuls and supporters to take advantage of the Atiku/Okowa 2023 presidential ticket to collectively restore the unity, peace, economic growth, Prosperity and progress of the nation.
He reechoed the need for effective and result oriented collaboration across ethnic, religious and political divides, as panacea to rescuing Nigeria from her multifaceted national problems prompted by clueless leadership of the federal government under the All Progressives Congress, APC.
Okowa's broadcast reminded Nigerians of the huge foreign indebtedness and economic woes, disunity, insecurity challenges, acute hunger, constant hike in electricity tariff and pump price of petrol, unprecedented poverty, high rate of inflation, decay in education and health sectors, mismanaged economy, increasing rate of corruption in high places, devalued Naira and other monumental problems currently bedevilling the nation, occasioned by bad governance under APC and Buhari.
Hear Okowa;
"There is probably no time in the history of our country that the demand for good leadership is more compelling than the times that we are living in.
"Our land continues to dig deep in disunity and our economy is breaking away from the reach of everyday hardworking Nigerians.
"The high rate of insecurity and the toll it takes on the peace of this country will require that we all roll up our sleeves to fight for peace to return to Nigeria.
"I am an incurable optimist in the power of democracy as agency for progressive change. Therefore, the work ahead of us in rescuing our dear country must begin with the task of electing a new President, who will rally the country to a new brand direction.
"For me, being on the ticket with Atiku Abubakar, the Presidential Candidate of the Peoples Democratic Party, PDP, is an opportunity to play a role in resetting the trajectory of Nigeria, back to the path of growth, Prosperity and peace.
"But it is not a role that I can play alone, that is why I am inviting everyone within the PDP, and all well meaning Nigerians to join hands with me in giving our utmost support in ensuring that we do our best for this country at this trying times.
"On my part, I pledge to be accessible and receptive to everyone that is ready to undertake this historic journey with us. Although our mission is simple, the road to victory is long and tortuous.
"Our mission is simple because I know that to get the diverse people of this great country to stand together as one people with one future is not a difficult thing to do.
"I know that when we work together to create an atmosphere of justice and equity, the energies that we shall pull as Nigerians is unstoppable?
"I know that with Atiku Abubakar at the front line, no one will be left behind in the march to this country's greatness.
"Fellow compatriots, my name is Dr Ifeanyi Arthur Okowa, the Vice Presidential Candidate of the Peoples Democratic Party, please join me as I invite you on this mission to restore peace, unity and prosperity to our great country, Nigeria. As one, we can get it done," Okowa said.
His strong determination to work harmoniously with his Boss, Atiku Abubakar, and to partner with other stakeholders to restore the country to the path of economic growth, peace and prosperity cannot be overemphasized.
Okowa's enviable track records as a grassroots politician, a super technocrat and seasoned law maker coupled with his good governance strides as governor of Delta State, clearly attests to his unblemished service to humanity at local, state and federal levels.
His strength of character, discipline, positive morals, inestimable potentials and unwavering patriotism shall play out in the discharge of his constitutional roles in the days, weeks, months and years ahead.