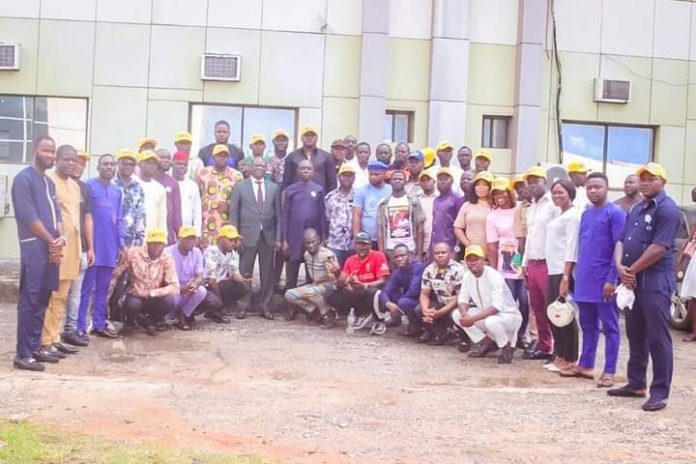 The Majority Leader and Member representing Isoko south constituency II in the Delta State House of Assembly, Hon Chief Ferguson Onwo (Ksc) has assured MORE for Delta Youths Project of his unalloyed support.
He gave the assurance today when he received the group on a courtesy visit at his office, Delta State House of Assembly Complex Asaba.
The Majority Leader who lauded the group for assembly themselves to advocate for united, peace and secure state with the candidacy of Rt. Hon. (Chief) Sheriff Oborevwori, as the 2023 state PDP guber candidate, re-echoed the MORE Agenda of the candidate in advancing human and capital developments across the three Senatorial Districts of the state.
The vibrant lawmaker Onwo who was earlier named patron of the group, also appreciated them for their unsolicited support to the Sheriff project just as he promised to give the group all his best to ensure the group achieve its aims and objectives.
He however opined that PDP will will all the elections in the state overwhelming.
"I want to encourage you people to continue in doing what you are doing because it will take you to places. I am a member of this pan Delta youth group both day and night.
Earlier, the group Deputy Director General Operations, Amb.Ogagaogheneyole Yole who spoke on behalf of the Director General Comrade Fred Oborevwori Junior thanked the Majority Leader for granting them audience inspite of his busy schedule.
While enumerating the group's objectives and projections, Amb. Ogagaoghene said the purpose of the visit was to identify with the leaders of goodwill not just for Isoko nation but for the entire Deltans.
Explaining further, he said the MORE for Delta Youths Project is not like the regular political pressure group but remain a pan Delta youth project that resolved to work and deliver the PDP candidates in all the elections in the state.
"This is a perculiar group of young people with the zeal to make a difference in the political equation of our dear state come 2023.
We are here to collapse the group structure under your leadership for your quality and fatherly advice having accepted to be the patron of this noble group and to intimate you about the inauguration of the group coming up tentatively on the 14th of July, 2022 in Asaba with youths across the state expected to storm the venue in solidarity for our principal, Rt Hon Sheriff Oborevwori.
#Austinazu