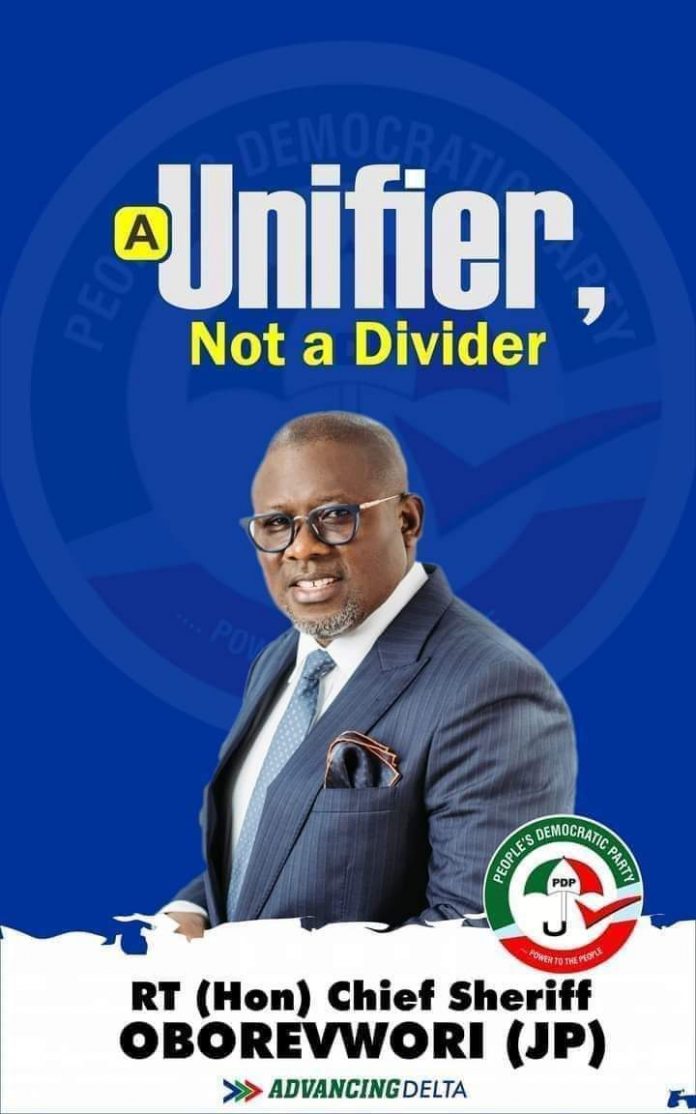 By Fred Latimore Oghenesivbe Esq
Party politics and internal democracy within a political party is crucial, it is an integral part of constitutional democracy. It requires political actors to place party's interest far and above self interest and/or personal ambition.
The just concluded governorship primary in Delta State, reminds us of the many disadvantages of inordinate ambition as clearly exhibited by one of the former aspirants, Olorogun David Edevbie. He is an oligarch, not loyal to PDP as a party man, in the true sense of the word.
Prior to the primaries, Edevbie's media team launched serious attacks and criminal allegations against one of the governorship aspirants, who is now the authentic Peoples Democratic Party, PDP, governorship candidate in Delta State, Rt Hon Sheriff Francis Oborevwori, JP. Edevbie's vicious attacks revealed his reckless lust for political power.
These early signs of desperation clearly gave out Edevbie as a radical contestant with inordinate ambition. While Oborevwori kept his cool, the attacks grew into massive character assassination, defamation and multifaceted criminal allegations questioning Oborevwori's integrity.
Both men have been in government since 1999, but it was in 2022 that Edevbie realised that his friend and fellow party man, Oborevwori, had issues he needed to challenge. Yes indeed, salutation may not be a display of love and friendship. Edevbie's hatred for Oborevwori was exposed by quest for political power.
The governorship primary was held under public glare, televised via Africa Independent Television Network, AIT, wherein Oborevwori emerged as the winner with 590 votes against Edevbie's 113 votes. PDP presented the party's certificate of return to the winner, Rt Hon Sheriff Francis Oborevwori, but the inordinate ambition inherent in Edevbie forced him to drag PDP and her governorship candidate to Court.
It is truism that inordinate ambition comes with excessive drive for power, influence and prestige. Such a fellow carries empty air of superiority, self acclaimed pedigree and sees himself or herself as the best among equals.
Edevbie sacrificed loyalty to party on the altar of inordinate ambition, ready and willing to consistently promote disunity among party faithfuls, as can be seen from his post governorship primary legal battles, media propaganda and acute lust for power.
The question is; Will Edevbie succeed in his efforts to destroy Delta PDP which he did not labour to build? God forbid! Edevbie is an elitist and oligarch, not a grassroot politician. His is several Miles away from the ordinary people.
Oborevwori on his part is in good standing; a grassroots politician, a philanthropist, seasoned lawmaker and a loyal party man. He is a reliable and dependable leader and ready to seek redress in superior Courts to upturn Honourable Justice Taiwo Taiwo's judgment of the Federal High Court, perceived to be a miscarriage of justice.
PDP as a party, is solidly behind her governorship candidate, Rt Hon Sheriff Francis Oborevwori. He promise to listen more, do more and achieve M.O.R.E.
The embattled former governorship aspirant's Inordinate ambition truly captures his lust for power and status, as is evidenced in the type of democratic process and political system that we run in Nigeria, which includes ruthless competitions and self advancements.
Edevbie's inordinate ambition will not prevail against the choice of the people. Oborevwori is the perfect choice of the people and governorship candidate of Delta PDP.
David Edevbie has never been involved in active politics other than contest governorship primaries. His prime focus is on Delta State treasury, and that kind of inordinate ambition will be very difficult to achieve in this dispensation.