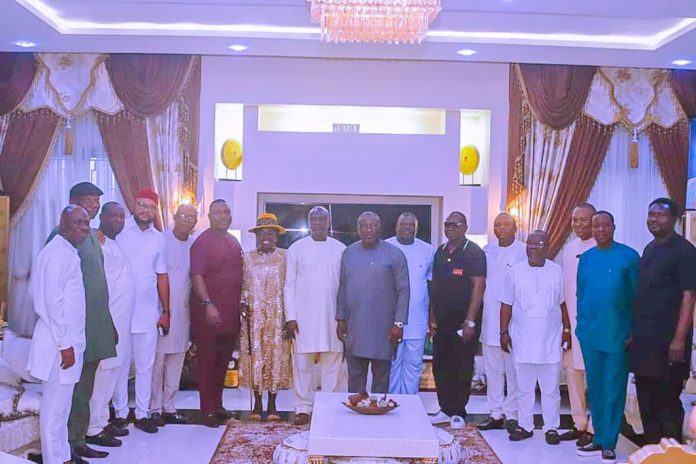 The Speaker of the Delta State House of Assembly and State PDP Governorship Candidate, Rt Hon Sheriff Oborevwori, on Sunday, July 10th, 2022, implored all his supporters, political associates and well wishers not to be distracted by the Judgement of the Federal High Court, Abuja.
Speaking in his country home in Osubi, Okpe Local Government Area of the state when members of the House of Assembly paid him a solidarity visit, the State PDP Governorship Candidate, described the Judgement as a phase.
Commending his colleagues who were at the Osubi Airport to welcome him from Abuja, before they proceeded to his country home, the Speaker said that; "This uncommon love that you people have shown to me since I indicated interest for the Governorship position is highly appreciated. We have the faith and God will not fail us. God will not bring shame to His Children. It is my fervent prayer that all of us will win our elections and we will celebrate".
He also said that; "Thanks for this visit. God will bless all of you. My Governorship ambition is a project of the Delta State House of Assembly and that of the entire state. I will continue to appreciate the 7th Assembly of the House".
Earlier, the Deputy Speaker of the Delta State House of Assembly, Rt Hon Ochor Christopher Ochor, said that; "We have come to see you as our leader and the incoming Governor. We are solidly behind you. We are hopeful and confident that nothing has changed. God will continue to bless you and our dynamic Governor, Senator Dr Ifeanyi Okowa. We will continue to be there for you. We are talking with joy and happiness because God has done it for us.