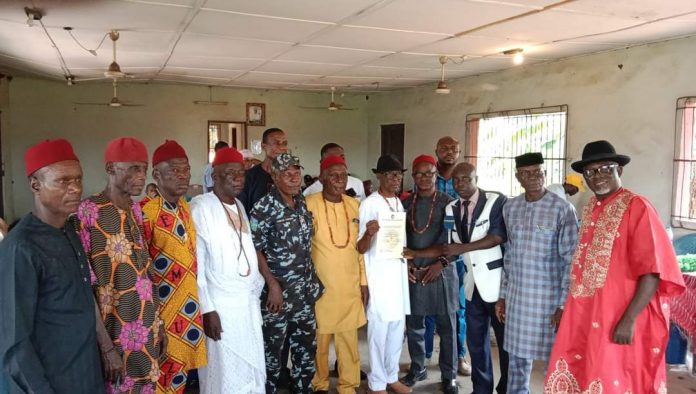 Following the renewal of certificate of Ndemili (Umusadege) Development Association by the Delta State Government, the community has inaugurated a 21 member interim executive committee to drive the development of the community and as well as put all the necessary structures of the body in place.
The inauguration was performed on 14 July, 2022 by Chief Peter Osagwu, the Onotu-Uku of the community following the unveiling and presentation of the certification registration by Mr. Wilson Adoh, Chief Development Officer and the representative of the Ministry of Women Affairs, Community and Social Development.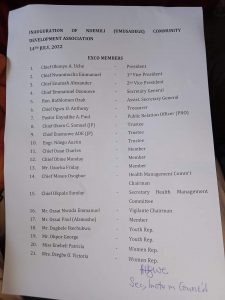 Chief Samuel Okom, who spoke on behalf of the Onotu-Uku, charged the newly executive committee on the need to learn from the mistakes of the past and ensure that transparency, prudence and selflessness becomes their watch words.
He advised them to ensure they work as a team in the tasks of nurturing the body towards the election of the body in six months time where a substantive executive committee will be elected.
Meanwhile, the chairman of the executive committee, Chief Uche Okonye promised to institute a transparent leadership in the discharged of the tasks ahead saying the CDA is open for all sons and daughters both at home and in diaspora who are willing to follow all registration process as a member or branch member as well.
"All indigene of 18 years of age is potential member. We have constitution of the body and what we inaugurated today is interim executive which will spearhead the body till December this year where all the structure will be form – the youth body, vigilante and the women wing will be constituted."
Earlier, the representative of the Ministry of Women Affairs and Social Development, Mr. Wilson Adoh expressed delight on initiative of the community as well as the large crowd that grace the occasion which he described as remarkable.
He chareged the community to eschew bitterness and embrace peace even as he recalled with nostalgia the pace with which he recommended the community for SEEFOR pioneer project in the state but unfortunately due to crises in the community the project was yet to be completed which he said was unfortunate development.
By Barth Ozah