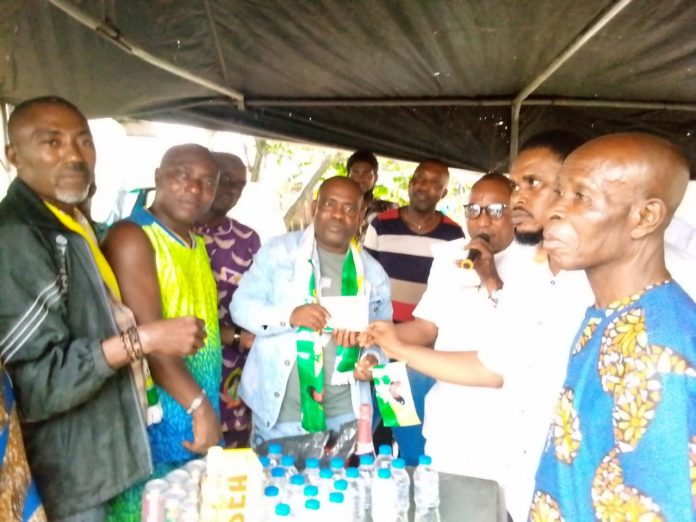 BY ESE ADAGBRA-Ahead of the 2023 General Elections Mr Monday Okubio the All Progressive Grand Alliance APGA Candidate of House of Assembly,Udu State Constituency,has declared that the party is going to win all Elections in Udu Local Government The Udu born Politician made this declaration during the affirmation of his candidature of the party when he played host to leaders and members of the party in Udu Local Government Area.
Mr Okubio said that APGA is going to win the All Elections in Udu because both the people's Democratic party PDP and All Progressive Congress APC have fail the people.Adding that there are no democratic dividends being enjoy by the people of Udu since the inception of the PDP in Udu LGA and Delta State.He added that the APC has also fail the people as well and APGA has come to their rescue. While reaffirming his membership and candidature of the party he said he has nothing to lose since both APC and PDP are tax collectors and his comfortable in APGA
Nobody will ask for money rather they are going to contribute their personal money to help you in APGA to achieve your aims! But Both PDP and APC are the same they are only interested in collecting your money whether you win Election or not it does matter to them. I was once a member of both PDP and APC.So APGA will win and I'm going to win here in Udu as well.I remain a bonafide member of APGA.
Chief James Akpowha Leader of APGA in Udu thanked the host and said Chief Great Ovadje Ogboru has never lost Elections in Delta State and he is going to win in 2023 as well. While appealing to" Our brothers in the other side" to join them that the food is enough for everybody,..He added that Mr Monday Okubio has been with them for long in the struggle and asked the people to support him for Delta State House of Assembly,Mr Daniel Omenco who he presented as well, for Federal House of Representatives, Ughelli South, North Udu Federal Constituency.
Mr Lucky Sagin Chairman Udu Elders Council of APGA said the time has come for the people of Udu to Liberate themselves from the oppression of the PDP and support APGA through Mr Monday Okubio.
The ten wstds Chairmen of Udu under APGA were present at the occasion.