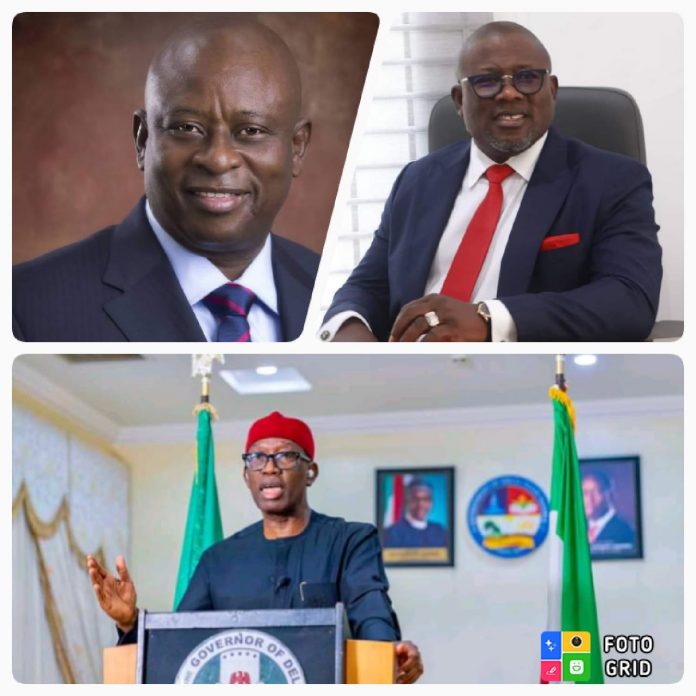 The recent media outbursts of Kenneth Gbagi, the Delta State SDP Governorship candidate for the 2023 Governorship election did not come to many as a surprise as it was his vintage style of communication. It only further revealed his underbelly as one couched in uncouth language, pedestrian discourse and his style of politics which is ominously centred on character assassination rather on issues.
Although, Kenneth Gbagi prides himself as one of the founding fathers of the PDP in Delta State, his general comportment belies his claim of being a founding father.
If truly he were one, he would have respected the choice of his party for the Governorship rather than leaving the party he co-founded for another just to ventilate his personal Political ambition.
In recent times, he has taken his personal hurt rather too far by venting his anger on an innocent Sheriff Oborevwori who won the PDP Governorship primaries in grand style.
Gbagi has left the PDP and he should leave the party alone and not be an interloper in its internal issues. If truly he is popular he should wait for the 2023 election to test his popularity rather than engage in a media smear campaign believing it would shore up his chances of being Governor of Delta State.
Sheriff Oborevwori is young enough to be Gbagi's political son and if this is the behaviour of fathers then no one should need a father of Gbagi's mold especially one that would use his biological son to film naked female workers.
If truth must be told Kenneth Gbagi does not possess the temperament, compassion, the urbane-ness and wisdom which should be the hallmark of a Governor. He has virtually taken up every Governorship aspirant in Delta State, including all the past and present Governors of the State.
At a time, he disparaged the immediate past Attorney General and Commissioner of Justice, Peter Adogbejire Mrakpor, SAN just because he saw him as a Governorship rival.
Gbagi laboured unsuccessfully to prevent the prestigious award of SAN from being conferred on Mrakpor, an illustrious son of Delta state and even of his own local Government of Ughelli South.
At another time, he picked another Governorship aspirant from Ughelli, David Edevbie and practically labelled him a thief.
As if trying to empty the last volley of insults in his arsenal, he has now picked up on the Governor of Delta State, on whom he has poured invectives that are too unprintable to mention.
We recall that not too long ago he threatened to deal with Dr Emmanuel Uduaghan if he demolished his Hotel discovered to be sited directly under high tension wires in Effurun. Also, to show how easily it is for Gbagi's sense of reasoning to be beclouded by sinister motives he once took on his friend, Chief Great Ogboru by telling the whole world how he rehabilitated "the former coup plotter" when he came back from exile. Certain personal details of Ogboru were brought to the fore by Gbagi, with tissues of lies added to garnish his story.
This scenario shows how dangerous it is to harbour friendship with Kenneth Gbagi or to even take him into confidence since he cannot be entrusted with a secret.
Gbagi is indiscreet and such a man cannot be trusted with Government secrets as he will spill the beans at every given opportunity.
It is said that those who live in glass houses should not throw stones. Gbagi is not a saint and should not be in a position to become sanctimonious in his preachments. Although, he prides himself as the biggest industrialist in Delta with power to create 100 industries in his first 100 days, if elected Governor, we all know that he runs his businesses without compassion for his staff members.
Not too long ago he allegedly subjected some of his female staff to inhuman treatment by stripping them naked in full glare of the camera for not allegedly remitting monies given to them as tips to him. He was said to have forcefully collected the ATM cards of the concerned staffers and mercilessly emptied all their life savings as punishment.
In spite of international uproar, condemning this bestial conduct exhibited by Gbagi he remained unrepentant and unfazed and continued his business as though nothing happened.
As a matter of fact, this behaviours of Gbagi shocked international Civil Society Organisations and brought odium and embarrassment to the whole of Nigeria. This cruelty of Gbagi bothered on savagery and barbarity and such a person does not have the moral standing to sit in Osadebey House as Governor.
We recall also that some ten years ago Gbagi was said to have impounded the car of a man whose wife was owing him a paltry sum of money and despite all entreaties by well meaning Deltans he refused to release the car till today. The car then valued at about 7 million naira is now rotted in his hotel because a woman owed him one hundred and sixty thousand naira.
Meanwhile, his Effurun hotel structure against all professional advice, is still ensconced under high tension wires and an uncaring Gbagi still collects annual rents from the facility.
Such a man who has no respect for laws and yet calls himself a lawyer and criminologist expects to be a Governor of Delta State? What a paradox!
At least anyone aspiring to be a Governor should possess certain attributes of civility and ability to accommodate different shades of opinion and not Gbagi who is behaving like one who did not see the four walls of higher education.
Gbagi has an uncanny belief that whatever he cannot have he should destroy, thus imbibing the attribute of the proverbial hen that scatters with its feet everything that is in its path.
Deltans are watching every step Gbagi makes. He should not mistake his notoriety for popularity. People may be clapping for him now for being loquacious like Governor Nyesom Wike and for his brazen disrespect for the Governor of Delta State. Unknown to him the ever enlightened Delta state electorate will pay him back on election day for his impropriety and lack of self control.
We wish to state that we have a lot of respect for Governor Okowa for not joining issues with Gbagi. The stance of Dr Okowa shows maturity, self restraint and wisdom which Gbagi abundantly lacks.
Gbagi should be sober that Governor Okowa's media aides have been silent, choosing not to glorify him with a response.
A man such as Gbagi should retire to his closet and bemoan his failed media rantings.
He should thereafter tell Deltans what he had gained by polluting the media space with lies and unverifiable claims which cannot even pass a simple integrity test.
DELTANS LIFE MATTERS
Christian Moses Abeh,
Global Coordinator,
Bartholomew Utele
Secretary-General.