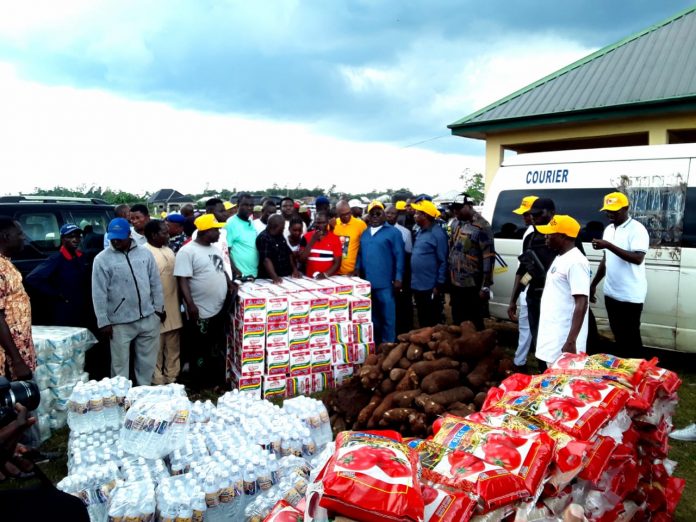 Worried about the plight of flood victims, the Speaker of the Delta State House of Assembly and State PDP Governorship Candidate for the 2023 governorship Election, Rt Hon Sheriff Oborevwori, on Saturday, October 15th, 2022, visited some Internally Displaced Persons (IDPs) and splashed them with relief materials.
The relief materials include, bags of Rice, Tubers of Yam, bags of Garri, Noodles , Bottled waters. Tissues, bags of salt and beans.
At his first place of call, the ICS Camp, Oleh, Isoko South Local Government Area of Delta State, the State PDP Governorship Candidate, said he was deeply touched by their situation, saying that they are not alone and will not be abandoned in any way.
Delta State Emergency Management Agency (SEMA) Camp Comandant, Mrs Elizabeth Chukurah who received the relief materials, expressed gratitude to the Speaker for the kind gesture and disclosed that the Camp has 1,016 IDPs.
At the Alaka Grammar School, Ozoro, Isoko North Local Government Area of the State, with 1,180 IDPs, the PDP Governorship Candidate spoke in same vein.
The Comandant of the Camp, Mr Vincent Ohwofadjeke lauded the Speaker for bringing succour to the IDPs with the assorted relief materials.
In a chat with newsmen, the Speaker said that; "I have visited the ICS and Alaka camps and I am here at the Delta State University of Science and Technology, Ozoro to ascertain the level of damage done by the flood. We understand that the University has been closed for two weeks now and we pray that the flood will receed soonest. There is nothing man can do because it's a natural disaster. I will advise those who refused to come to the IDP camps to relocate to higher ground.This is a natural disaster and they have no choice than to relocate to higher ground. This thing happened in 2012".
"What we have to do as stakeholders and leaders is to appeal to them and let them know that they need to leave areas that are affected by the flood.Nobody knows when the waters will begin to receed. You may just be sleeping and one day you find out that everywhere is flooded. So it is our appeal that they should relocate because this is a natural disaster. The IDP camps are good places for them to relocate to because there they will be well taken care of by the government.I want to advise the IDPs to be orderly and manage themselves very well", he added.