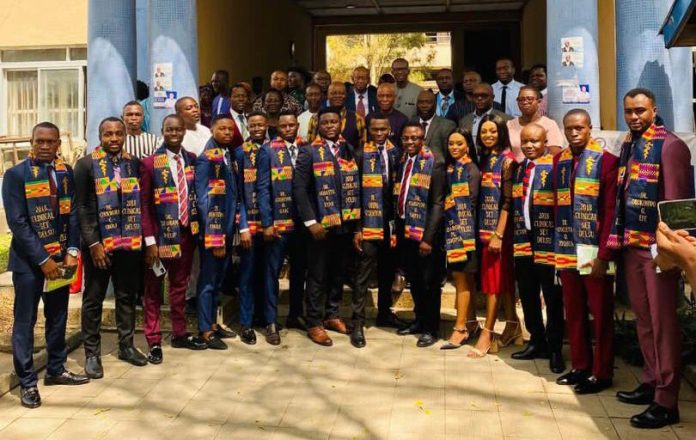 A US based Charity Organization, Ify and Azuka Foundation has expressed happiness that an indigent student of Medicine, Michael Obuseh that it picked interest to see through Medical Science programme at the University, is now a Medical Doctor.
Chairman/Chief Executive Officer of the Foundation, Dr Victor Azuka Ubani while reacting to the Thursday's (1/12/2022) Swearing-in and Oath taking of Micheal Obuseh as a qualified Medical Doctor at the College of Health Sciences, Delta State University, Abraka, said the successful completion of the six year academic programme was worthy of celebration.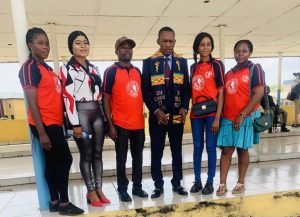 Dr Ubani explained that although Ify-Azuka Foundation has over ten persons on its scholarship scheme, Micheal was unique following his determination for academic excellence and dexterity towards making the Foundation proud.
The CEO who hails from Igbodo in Ika North East local government area of Delta State said he was contacted sometime in 2016 by a relative that the young Micheal, who lost his father two weeks after his Senior Secondary Certificate Examination, was finding it difficult to continue his degree in Medicine and Surgery after his 100 level at the Delta State University, Abraka.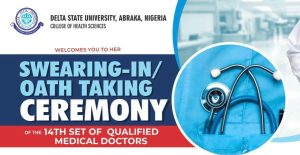 Dr Ubani disclosed that he picked up interest in Micheal who he never met before, called, interacted with him and offered him an all-encompassing scholarship, for which the success attained was now being celebrated.
He expressed gratitude to God for providing the Foundation the wherewithal to see Dr Micheal Obuseh through the MBBS programme, stressing the irrevocable commitment of the Foundation to investing in the lives of the future generations.
"I never knew the young man before until when I spoke with him on telephone and enrolled him into the Scholarship Scheme of our foundation. Dr Micheal Obuseh was so unique and committed to excel in his academics. He was never distracted. Just pay his school fees, accommodation and money for feeding, and he is ok. He was ready to wear the same clothes all through the week so as not to put financial burden on you. We have to force him most times to accept money to get new clothes for himself. He was very focused and I thank God we are celebrating him today as a qualified Medical Doctor.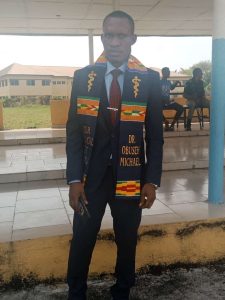 "I must commend two relatives, Osundu Odia and Dr Isioma Okobah's Mother who drew my attention to the challenges faced by the young man. Dr Michael Obuseh is now a great ambassador of Ify-Azuka Foundation and we are proud to celebrate him. I shall continue to acknowledge the support of my wife, Dr (Mrs) Ify Ubani who always embrace a good course whenever it arose. The case of Micheal is one of such situations", Dr Ubani stated.
The new entrant into the circle of Medical Practitioners, Dr Micheal Obuseh expressed profound gratitude to Dr Azuka Ubani and Dr (Mrs) Ify Ubani for picking up the bills of his MBBS pursuit at the Delta State University and thanked God that it all ended in praise.
"I have BSc in Biochemistry from University of Benin. MBBS (Medicine and Surgery), DELSU is my second degree. After my NYSC, the money I gathered, I used to pursue the MBBS Programme but the money got finished after my 100 level. That was when my God brought in Ify-Azuka Foundation. I can not thank God enough for bringing these people to assist me realize my dream.
" I was 17 years when my father died, two weeks after my SSCE. I am now 33 years. It has not been easy but thank God for those who had and would continue to play great roles in my life. There were 16 students that took oath today as qualified Medical Doctors. Thank God that poor Micheal is one of them. My dream is to become a Professor of Immunology and Infectious Disease. And I know it shall come to pass. I will remain appreciative to God for the intervention of Ify-Azuka Foundation in my life", Dr Obuseh stated.
Elder brother to Micheal, Mr Francis Obuseh, and a roommate, Dr Ojo Oladotun in their reactions, described the gesture of Ify-Azuka Foundation as worthy of emulation and prayed God to enrich the coast of the Charity Organization.
The Programme Manager, Delta State office of Ify-Azuka Foundation, Mr Augustine Eseka who witnessed the swearing in ceremony at the main campus of the Delta State University, Abraka, congratulated Dr Micheal Obuseh for the great achievement, saying that the Foundation would continue to live up to expectations.
He wished Dr Obuseh well in his future endeavors.