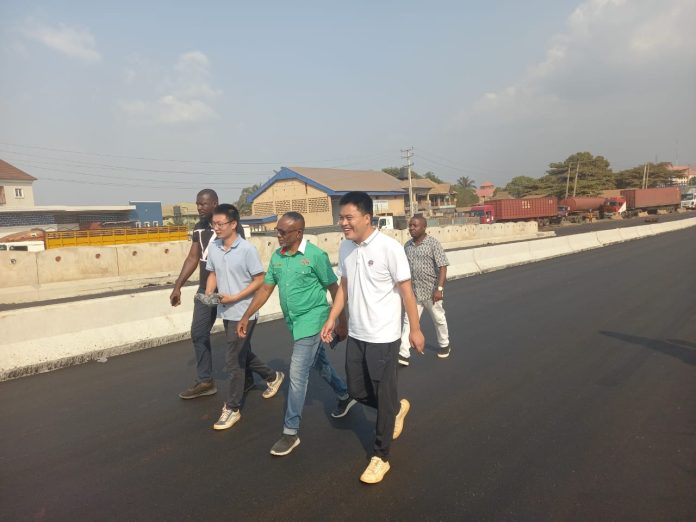 Motorists need not bother about likely gridlock on the Koka Interchange (Flyover) axis of the Asaba/Onitsha expressway at yuletide as the bridge would be open for public use on December 15, 2022.
The Delta State Commissioner for Works (Urban and Highways), Mr. Noel Omodon, who disclosed this to newsmen after his inspection of the bridge yesterday, expressed satisfaction with the progress of the project.
According to Omodon, ''we are rounding up now; we are trying to conclude the project. We are working on all the adjourning traffic lanes under the bridge. Meanwhile, they (the contractor) are applying asphalt on the bridge which is like the final structural phase excluding the furnishings such as lighting and painting.
'Hopefully, we will get the bridge ready for this yuletide to control any likely surge of traffic on this axis. By December 15, 2022, we should have opened this bridge for use by smaller vehicles because the bulk of the traffic involves buses and cars.
''There is no problem at all about heavy-duty vehicles passing through the bridge but in this first phase of opening, we just want traffic to flow easily so we will not allow heavy-duty vehicles. However, when it would be (fully) ready, it would be opened for all traffic.
''We expect that we should have completed this project before the end of the year but the actual commissioning of the project is not for us (Ministry of Works) to decide'' he said, even as he expressed satisfaction with the contractor for having lived up to expectations.
''Once we (the Ministry of Works and the contractor) are through and move out of the project site, this place (Koka Interchange) will become a beehive of activities. There will be a lot of undertakings like commercials, leisure, tourism, and more here.
''I am very impressed with what we have done so far. You must have seen the drainage channels and other definitions emerging perfectly'' Omodon said, even as he commended Governor Okowa for the project.
Also speaking, the Project Manager of the China Civil Engineering Construction Corporation (CCECC), Mr. Wu Yuanru, expressed strong optimism that the flyover would be completed and ready to be commissioned by January 2023.
Meanwhile, the superintending engineer from the Ministry of Works, Arinze Oramadike, said that actual work commenced on the project in August 2021, even as he explained that the total length of the bridge was about 480 meters including both ramps.