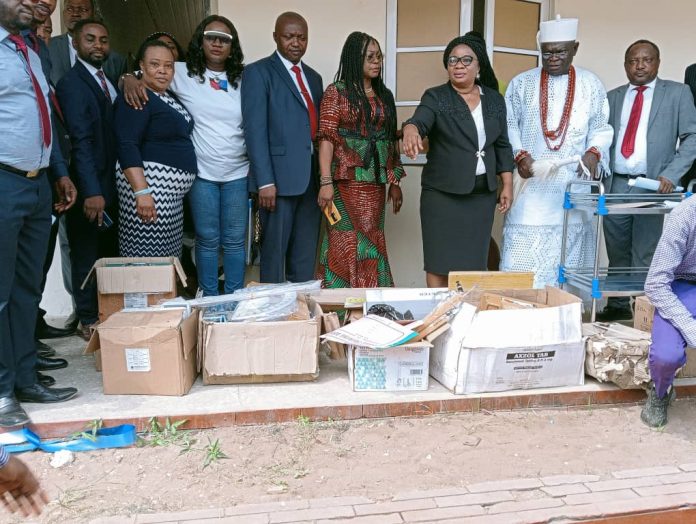 By Magnus Emuji
Delta State Government (DTSG) has pledged to partner with critical stakeholders in the education system through various interventions geared towards the development of the sector.
The State Commissioner for Secondary Education, Mrs. Rose Ezewa3e1 Asaba on the occasion of the Inauguration/Commissioning of the Renovated Science Laboratory and Equipment at Asagba Mixed Secondary School, Asaba by the Central Bank of Nigeria (CBN) as one of its Corporate Social Responsibility Projects.
Mrs. Ezewu said that the project would help the school to prepare the final year students for their external examinations.
The Commissioner, who stated that the project would continue to impact positively on the overall performances of science students of the school, lauded the Central Bank of Nigeria for the initiative.
Mrs. Ezewu, however, advised the school to utilise and ensure the protection of the facility just as she called on other institutions and organisations to emulate the gesture of CBN in the upliftment of the education sector in the state.
Earlier, the Branch Controller of CBN , Asaba, Mr. Godwin Okafor said that the project was in tandem with the educational development initiatives of the bank and appealed to the school to ensure that science students of the school took advantage of the science laboratory and equipment to excel in their academic activities.
In her welcome address, the acting Principal of Asagba Mixed Secondary School, who Mrs. Otakpor Efemena expressed gratitude to CBN for renovating and equipping of the laboratory, commended the State Government for creating the enabling environment for the nation's apex bank to choose the school for its Corporate Social Responsibility.
Mrs. Otakpor enjoined the science students of the school to make judicious use of the laboratories and handle the equipment with utmost care and safety,