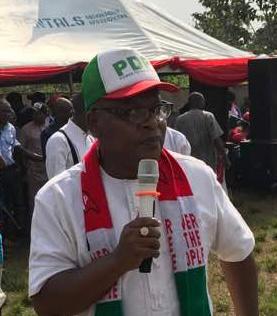 A Political Strategist and Chairman, "Person-to-Person Campaign Group", Dr Victor Onyema Ebenuwa has urged Nigerians to embrace the Atiku-Okowa's ticket to save the country from further calamity.
Speaking in an interview with newsmen in Asaba, Dr Ebenuwa explained that at the moment the future of Nigeria precariously hanged in the balance and requires a team to bring the country out of the dungeon the APC government has placed it for over seven years now.
He said Alhaji Atiku Abubarka and Dr Ifeanyi Okowa emerging President and Vice President respectively in 2023 was the way forward as the nation struggles to survive the remaining period of the APC led federal government.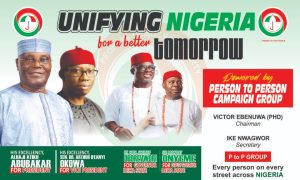 Dr Ebenuwa who spoke immediately after playing host to the executive and leadership of Person-to-Person Campaign group, urged Nigerians to support the Atiku-Okowa's ticket to quickly pull the nation out of the present dangerous path.
The Senior Special Assistant on Revenue Monitoring, Tracking and Audit in Delta State, noted that he has worked closely with Dr Ifeanyi Okowa for over two decades, saying that he is an extraordinary servant politician whose wealth of experience in governance can easily change the narratives from negative to positive.
Highlighting achievements of the PDP Vice Presidential Candidate as Governor of Delta State, Dr Ebenuwa emphasized that Okowa has delivered creditably in that capacity and is prepared to join forces with Atiku and every other critical stakeholders to champion a new Nigeria where peace, unity, good governance and development thrives.
"If there is anything God has given to Dr Okowa in abundance, Brain Power is one of such. I know he will deploy it to the fullest as Vice President of Nigeria in support of the President to see that this country is quickly repositioned. He is a man full of candour, poise and panache.
"He will bring to the table respect for the office of the Vice President of Federal Republic of Nigeria. He will bring to table Christain virtue of humility, respect for the rule of law, respect for fellow human being, family values and service to God and humanity. These are virtues that you can never take from Dr Okowa because he has them in abundance. I have never seen a man so contented, focused and committed to service", Dr Ebenuwa stated.
The PDP Chieftain stressed that with Atiku-Okowa, Nigeria is in a safe hand, saying that as a nation, the country is in a threshold and that Atiku-Okowa is to the rescue, even as he urged the people not to let the opportunity slip off their hands as such a chance may not repeat itself.
Dr Ebenuwa maintained that it is only proper for Nigerians to take advantage of the Atiku-Okowa joint ticket by supporting and voting massively for them and all PDP candidates in the 2023 general elections.
He emphasized that PDP formidable team was seriously needed to move the nation forward and save the people from further suffering inflicted on them by the APC led federal government.