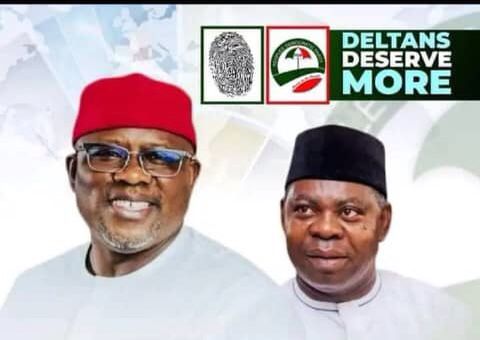 The landslide victory of Rt Hon Sheriff Oborevwori for the just concluded Delta State Governorship election of the March 18 has continued to enjoy more goodwill messages from all walks of life.
This time, is coming from the revered Delta North Traditional Rulers Forum, the apex body of all recognized traditional rulers from Anioma Nation, who has congratulated the State Governor elect, Rt Hon Sheriff Oborevwori and his deputy, Sir Monday Onyeme on their victory at the March 18th governorship election.
The Vice Chairman of the forum and Obi of Abavo kingdom, HRM Uche Irenuma and the Secretary and the Obi of Atuma HRM Daniel Chukwuka Ogbudo, in a statement said; "on behalf of All Delta North traditional rulers and the good people of Delta North Senatorial District, we wish to extend our heartfelt congratulations to Rt Hon Sheriff Oborevwori on your recent election as the Governor of our great state.
"The Delta North Traditional Rulers Forum led by its Chairman and the Asagba of Asaba, Prof. Chike Edozien, knowing the impressive track record, unwavering commitment to public service, and inspiring vision for the future have earned you (Rt Hon Sheriff Oborevwori) the trust and confidence of the people of Delta State.
"Your dedication to upholding the principles of democracy and your tireless efforts to promote the common good are truly admirable, and we are certain that you will serve our state with distinction and honour.
"As you prepare to assume this important role, we wish you all the best in your endeavours. We have no doubt that your leadership will bring about positive changes and lasting benefits to our state, and we look forward to working with you in achieving our shared goals.
"We therefore, congratulate you on your well-deserved victory, and we wish you all the success in your upcoming term as Governor".