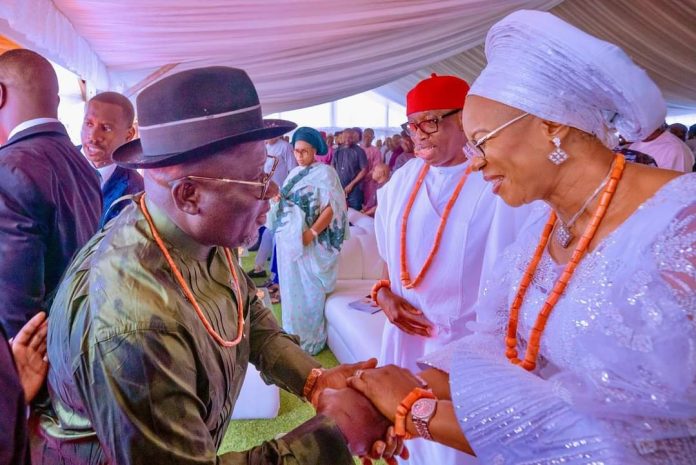 The entire political Class in Delta State, and people from all walks of life, on Saturday June 3, gathered at Owa Modern College, Boji Boji, Owa in Ika North East Local Government Area of the State, to celebrate a consummate leader and immediate past governor of Delta State, Senator Dr Ifeanyi Arthur Okowa and his jewel of inestimable value, Dame Evangelist Edith Okowa.
Delta State Governor, Rt Hon (Elder) Sheriff Francis Oborevwori, JP, the Ukodo of Okpe Kingdom and his amiable wife and Delta First Lady, Her Excellency, Deaconess Tobore Oborevwori were in attendance.
Speaking to newsmen on Saturday, the immediate past Executive Assistant on Communications to Delta State Governor under Okowa administration, Olorogun Dr Fred Latimore Oghenesivbe Esq, said governor Okowa's legacies in Delta State will be remembered for decades to come.
He noted that in 2015 when Okowa assumed office as governor, there was obvious need for infrastructure upgrade, create jobs and wealth, and the need to alleviate poverty, rehabilitate roads and build new ones.
He disclosed that within eight years, Okowa administration built nearly 3,000 kilometres of roads, 2,500 kilometres of drains, built bridges, a world class floating market in Warri North Local Government Area, built a gigantic state Secretariat, established three Universities, built Technical Colleges, Teachers Institute, Road Safety Training School and many other remarkable achievements.
Oghenesivbe further posited that Okowa introduced fiscal discipline, blocked financial leakages and prudently managed the state financial and material resources to bring about uncommon transformation in all sectors, placed Delta in the front burner in Sports infrastructure development, Delta became perpetual champions in national sports competitions, built a gigantic Olympic size Stephen Keshi International Stadium in Asaba, upgraded facilities at Asaba International Airport, concession it for expansion and better management.
Above all, Oghenesivbe noted that under Okowa administration the state enjoyed maximum peace, provided logistics and other assistance to security agencies in the state, Delta became number one in oil revenue generation, he built a befitting Secretariat for the State Traditional Institution, effectively led the State structure of the Peoples Democratic Party, PDP, and won several electioneering victories during his tenure as governor of Delta State.
"Okowa's footprints dots the entire landscape of Delta. He practically reduced poverty to it's bearest minimum through result oriented human capital development, job and wealth creation by establishing multifaceted vocational training and skills acquisition centres across the three senatorial districts.
"Thousands of Delta Youth and women were catapulted from the labour market through the Rysa, Step, Yagep and Project GEST programmes, provided funding and starter packs for all beneficiaries and the programmes were effectively managed by the Bureau for Job Creation, Ministries of Youth and Girl Child, respectively.
"Okowa also provided for the widows across the state on a monthly basis. They got welfare packages and monthly stipends to put food on their tables. He touched all and sundry in the state, and governed the state with high sense of humour, self esteem, courage, discipline and mesmerizing charisma.
"He's loved greatly, which is why we are all gathered here to celebrate a living legend and a pragmatic leader, His Excellency, Senator Dr Ifeanyi Arthur Okowa, CON, and his jewel of inestimable value, Her Excellency, Dame Edith Okowa, a servant of God and a renowned prayer warrior and great evangelist.
"Deltans are grateful to Ika nation for giving us one of their best, in the person of His Excellency, Senator Dr Ifeanyi Arthur Okowa, who laid a solid foundation for a stronger Delta.
"Okowa shall be remembered always for his monumental achievements in socioeconomic and infrastructure development, as well as human capital development, job and wealth creation from 2015 to May 29, 2023.
"Deltans are also happy with Okowa because he stood firm to ensure power rotation in the State. He gave us a brand new Governor that is visionary, a philanthropist, detribalized, courageous, competent and ready to listen more, do more and achieve more for Deltans and the state, in the person of His Excellency, Rt Hon (Elder) Sheriff Francis Oborevwori, JP.
"Oborevwori's M.O.R.E agenda will build on the enviable legacies of Okowa in all ramifications, with immediate emphasis on breaking new grounds in infrastructure renewal, human capital development and social investments programmes
"Oborevwori recently declared his commitment to achieving zero tolerance for sectionalism and nepotism, undertake a home grown approach to governance and development in an all inclusive government, whether in terms of Projects distribution or appointments.
"This is heartwarming and a foreseeable positive mindset of Oborevwori towards Advancing Delta, being an unrepentant believer in the unity of Delta State, where fairness, equity and justice shall prevail at all times in actions and ultrances by cabinet members and political appointees across board.
"For real, better days are here with Oborevwori in the saddle," Oghenesivbe assured.