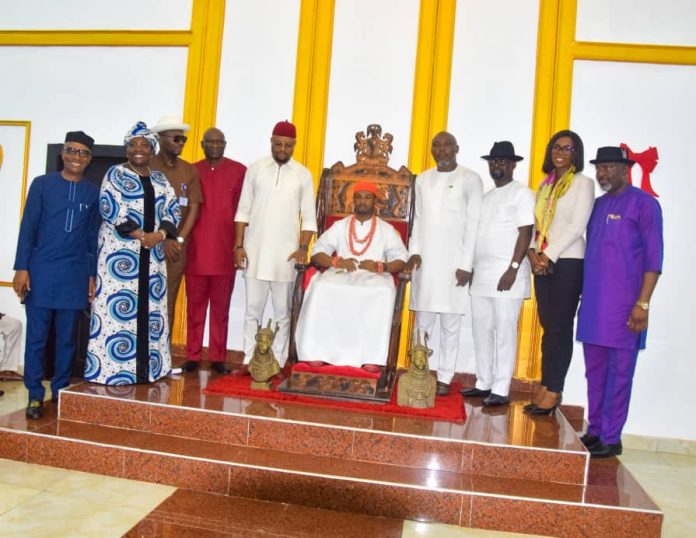 Majority Leader of the Delta State House of Assembly, Hon Emmanuel Emeka Nwaobi, Wednesday led some of his colleagues on a thank-you visit to the Traditional ruler of Issele-Uku Kingdom, Agbogidi Obi Nduka, in Aniocha North local government area of the state.
The Monarch at the event, advised lawmakers in the State not to undermine nor betray the confidence reposed in them by their various constituents.
The Majority Leader, Emeka Nwaobi had in his entourage the Deputy Speaker, Rt Hon Arthur Akpowhowho, as well as members representing Ughelli South, Festus Utuama, Burutu 2, Pereotu Oloye, Ika North East, Marylyn Okowa Daramola, Oshimili South, Bridget Anyafulu, Warri South One, Austin Uroye, Oshimili North, Frank Esenwah and Ndokwa East Constituency, Prince Emeka Asamuta.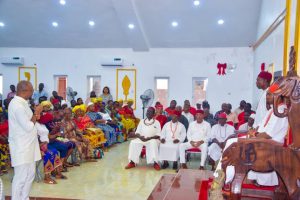 The Monarch, Agbogidi Obi Nduka, Obi of Issele Uku, while receiving the Lawmakers to his kingdom, admonished them to as a matter of necessity, justify the peoples' mandate by ensuring effective and efficient representation.
He particularly, appealed to them to ensure that they use their positions as lawmakers to enact laws that would be beneficial to the State and, particularly, their constituents.
The Monarch, apparently pleased with the homecoming of Hon Emeka Nwaobi, who represents Aniocha North in the State Legislature, said his emergence as Majority leader of the 8th Assembly was simply an act of God.
He charged Hon Nwaobi to ensure that he use the position to impact positively on humanity by promoting People-Oriented legislation.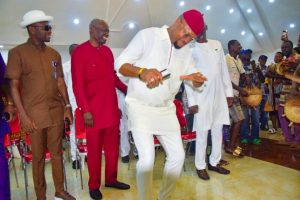 "My Honorable member, while I join the people of Issele-Uku Kingdom in thanking God for your new position in the State House of Assembly, I wish to remind you that your emergence into that exalted position was by the will of God.
"My appeal to all of you therefore, is simple. You should know that the office you currently occupy is for the benefit of your people. You should do all you can to ensure that your constituents benefit immensely from the position you currently occupy" Obi Nduka advised.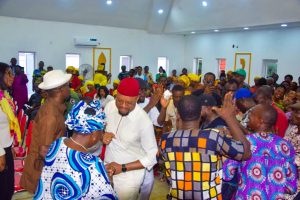 The member representing Aniocha North State Constituency and Majority Leader of the Assembly, Hon Emeka Nwaobi told the monarch that he was at the palace to thank him for his support thus far and inform him of his emergence as Majority leader of the State Assembly.
Nwaobi paid glowing tributes to the people of Aniocha North for returning him to represent them at the Delta State Assembly, saying that he would not have been a Majority Leader if he was not re-elected.
The Lawmaker also thanked the leader of his party in the state, Governor Sheriff Oborevwori and others who made his unanimous choice as the Majority Leader possible.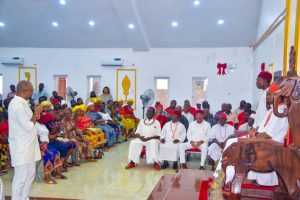 Nwaobi promised never to betray the confidence reposed on him by the people of the state, particularly the Aniocha North.
The visit featured display of the rich cultural heritage of the people of Aniocha North.