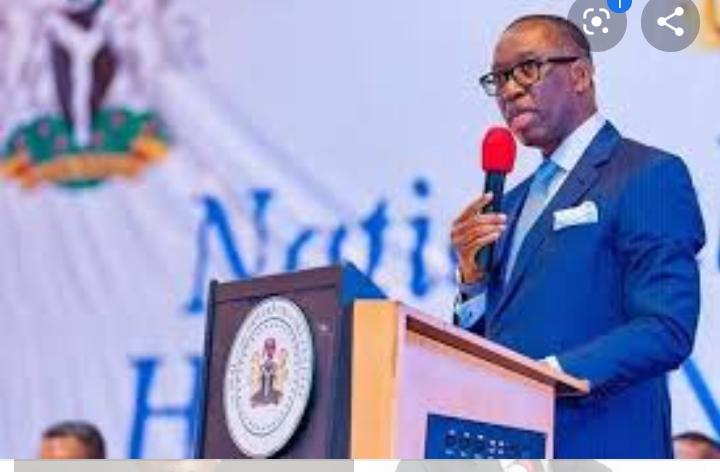 In a bid to sustain its vantage and leading position in sports development in Nigeria, Delta State Government under, the leadership of Senator Ifeanyi Okowa, Governor of Delta State, has continued to be more proactive with a view to ensuring that the state is not unnecessarily overtaken by other competing states in various sporting activities.
To continually achieve this, the state government considers imperative to place a very strong emphasis and premium on grassroots sports, aimed at catching them young with the discovery of potential athletes and other quality, dependable and reliable sports men and women in virtually all critical areas of sports such as wrestling, football, badminton, golf, volleyball, tennis and long jump, among others.
Several decades ago, school sports was given utmost priority, as it was indeed perceived as a veritable instrument through which athletes could be scouted for and discovered.
However,  notwithstanding the fact that, physical education as an extra-curricular activity is being taught in the school system,  many states in Nigeria no longer conduct school sports festival.
The consequence of failure to bring back school sports is the dearth of   mentally and physically shaped athletes in many states who in turn may not be able to compete favourably with state like Delta. For instance,  a typical Delta man does not believe in giving up when it comes to things like sports competition.
Realising the importance of school sports, Delta State through the Ministry of Basic and Secondary Education, the Okowa administration in its systemic approach towards achieving the stronger Delta mantra shown and still displays uncommon determination to take sports sector in the state to enviable height.
In realisation of its set targets of leaving an endearing legacies in sporting development , Delta State has not only reinvigorated sports by introducing the school sports festival which was first held in 2019,  but at the same time,  striving with all sense of commitment by the stakeholders to surpass the giant strides it recorded during the  maiden edition of the festival under the former Commissioner for  Basic and Secondary Education,  Mr Chiedu Ebie,  now the Secretary to the State Government.
This kind of expectations and permutation is hinged on the conviction that every indexes that might have in one way or the other, inhibited total success would have been taken care of in the second edition if any and in consideration that second opportunity in the life of human invariably, provides platform for improvement.  Henceforth, it creates room to break new grounds by coming out much better.
Moreover,  with the 2nd edition of the festival  under the present Commissioner for Basic and Secondary Education,  Chief Patrick Ukah,  a multi -talented, consummate and experienced sports personality who at some point,  won series of laurel  for himself,  the state and nation in general,  especially in hockey,  having commenced with the elimination  of athletes,  it is expected like one has emphasised much earlier,  that  the 2020  Delta State School Sports Festival would more intriguing and more successful.
For the 2020 episode of the competition tagged 'Greater Delta Games 2020 ', different schools are obviously participating in the competition with the much needed enthusiasm coupled with high spirit of commitment.
It could be recalled that during the zonal elimination stage of the festival which took place from February 18 to 20, 2020, primary and secondary school categories of the athletes drawn from various public schools across the three Senatorial Districts keenly participated with Oshimili North, Oshimili South, Aniocha North and Aniocha South converging at the Stephen Keshi Stadium, Asaba.
Similarly, athletes from Ndokwa West, Ndokwa East, Isoko South and Isoko North used the stadium at the Delta State Polytechnic, Ozoro for their own zonal elimination which held simultaneously across the selected stadia in the state. Warri South, Warri South West, Uvwie, Sapele, Ethiope West, Bomadi and Patani Local Government Councils had their turn at the different designated stadia within their zones.
The story was not different in Ughelli as participants from Ughelli North, Ethiope East and Ukwuani Local Government Area battled for dominance at the Ughelli Township Stadium, Ughelli. Again, those from the Ika speaking ethnic nationality that is Ika south and Ika North East unleashing their arsenal of young athletes to participate in the elimination process.
The importance of school sports in the overall socio -economic development of any society cannot be overemphasized.  Generally speaking, sporting activities in school, otherwise known as 'school sports ' help in the overall physical and mental development of students. Besides  that,  it creates spirit of togetherness among  children,  engender  healthy competition among the students which would  also completely  reflect in the academic  performance  because as they  compete among themselves  in sports,  there is the factual tendency  that  they could attach such attitude towards their academic pursuit.
Sports equally foster the spirit of team work, leadership, self confidence and friendliness among children.  Above all, it brings positive mentoring of the students.
In Nigeria  for instance,  the likes of  the Delta born athletes Ese  Brume,  Blessing Okagbare,  Austin Jay Jay Okocha, whose sterling  performance in soccer at the global stage, still  reverberates within human space,  Chioma  Ajunwa,  who despite  showcase her talent  at police games,  apparently  was a promising athlete from grassroots level  Odumayo  Adekuotoye,  a free style  wrestler and many more of such heroes and heroines of Nigeria sports industry could not have risen to the pinnacles of their career in athletics and other sports as it were, overnight  but through commitment and grassroots participation. Most of them if not all were products of school and grassroots sports.
Although, overtime certain individuals misinform others, especially the younger generation, that sports is a career meant for the dullards, those who are less academically sound.  Those whose academic performance is nothing to write home about.
This notion is not only baseless and false impression, but designed to dissuade children from showing greater interest in sports activities thus leading to what one may describe as 'dearth of athletes ' and quality and dependable sports men and women who can hold on to their pick, in no distant time from now if nothing is done to change the narratives.
To this end, stakeholders including teachers, particularly gurus in physical education, should try as much as possible to change the orientation of the children as quickly as possible while also encourage them to take their studies seriously.  There is nothing wrong in balancing academics with sports in line with the saying that: "All work without play makes Jack a dull boy ".
However,  any student who is academically backward, that is struggling with academics, may be advised to reduce his concentration in sports and show more commitment to his studies, but not to jettison sports entirely because we need it for our physical and mental fitness.
The final stage of the Delta State School Sports Festival that would kick start from March 8 and end on 12, now that the zonal elimination had been concluded, is billed to hold at the Stephen Keshi Stadium, Asaba, with the Delta State Governor, Senator Ifeanyi Okowa, expected to attend as a Special Guest of Honour among other top government functionaries and dignitaries.
Speaking in Asaba during the unveiling of the Logo and Mascot of 2020 edition of Delta State School Sports Festival, the Commissioner for Basic and Secondary Education, Chief Patrick Ukah who stated that the logo and mascot of the school sports festival named 'Greater  Delta Sports  2020' was aimed at reflecting the  finishing strong agenda of the Governor  Ifeanyi Okowa's administration.
Chief Ukah  said that the state government was desirous of using sports to discover and develop  future  sports men and women  who  would in nearest future  take over  the mantle of leadership.
The Basic and Secondary Education Commissioner maintained that despite the school sports festival being the second in the series, after revamping the festival by the Okowa administration, the 2020 edition would be very unique and larger as according to him, more sports had been introduced.
The essence of introducing more sports is to encourage wider participation such that every athlete would be given a level playing ground and opportunity to showcase their skills.
Chief Ukah,  who listed  the sports to be competed in to include hockey,  badminton,  table tennis,  basket ball,  athletics , chess,  volleyball,  scrabble and cricket,  handball , disclosed that before the commencement of the festival, schools were made to register and indicate areas of sports interest.
He said that in order to give every pupil and student the opportunity to take part in the state sports festival, the competition was organized in four levels namely school, local government area,  zone and state final,  adding that the zonal elimination was held  from February 18 to 20 with athletes from seven different venues .
Continuing, Chief Ukah restated that the final stage of the festival which had been scheduled to hold from March 8 to 12 at the ultra- modem Stephen Keshi Stadium in Asaba metropolis, commended Delta State Governor, Senator Ifeanyi Okowa, for his unflinching support to the State Ministry of Basic and Secondary Education and the development of sports in the state.  Chief Ukah called on corporate organisations and good spirited individuals to partner with the state government to move sports forward.
The unveiling ceremony attracted top government functionaries including the State Commissioner for Information,  Mr Charles Aniagwu,  a thorough bred journalist whose exploits and achievements in the media industry remain unequalled , journalists as well as the Sports Writers Association of Nigeria (SWAN),  Delta State chapter,  led by its Chairman,  Mr Azuka  Chiemeke.
While unveiling the logo and mascot, Delta State Commissioner for Information, Mr Charles Aniagwu, said that sports played crucial role in the physiological development of a child.  Mr Aniagwu noted that what was being unveiled was the future leaders, who would be given the required preparation  to be better equipped to contribute modestly towards the stronger Delta mantra of Okowa government.
The ever articulate Commissioner for Information,  Charles Aniagwu,  like his predecessor, Chief Patrick Ukah, emphasised that sports was a useful weapon for tackling not only unemployment  as it had become a money spinning venture  but could also serve as a vehicle with which to mitigate,  curb and tackle negative/social vices among children of nowadays in the society.
On his part, the Permanent Secretary of the ministry, Comrade Samuel Dietake, in a welcome address, said that the ministry was irrevocably committed to showcasing school sports festival that would stand the test of time,  adding that the state government under the watch of Senator Ifeanyi Okowa would continue to set records in sports development and performance that would be very difficult to beat by other states. Comrade Dietake described Delta as the hub of sports in the history of Nigeria.
Earlier in a monitoring visit to Stephen Keshi Stadium, Asaba during the zonal elimination, some primary and secondary schools athletes who spoke to newsmen including Miss Blessing Umoh,  Adim  Isioma,  Salisu Mohammed and Christopher Philip, applauded the State Governor,  Senator Dr  Ifeanyi Okowa, for the initiative to reintroduce school sports festival. They maintained that the festival had created a platform for them to showcase their talents and called on their parents, corporate organisations and governments at all levels to support them.
Yes, sports have numerous benefits to humans. It could also be recalled that  sports through regular exercise is undeniably, one of the ever known panacea to sound health,  especially in the form of burning fats  as available records shows that exercise leads to longevity of life.