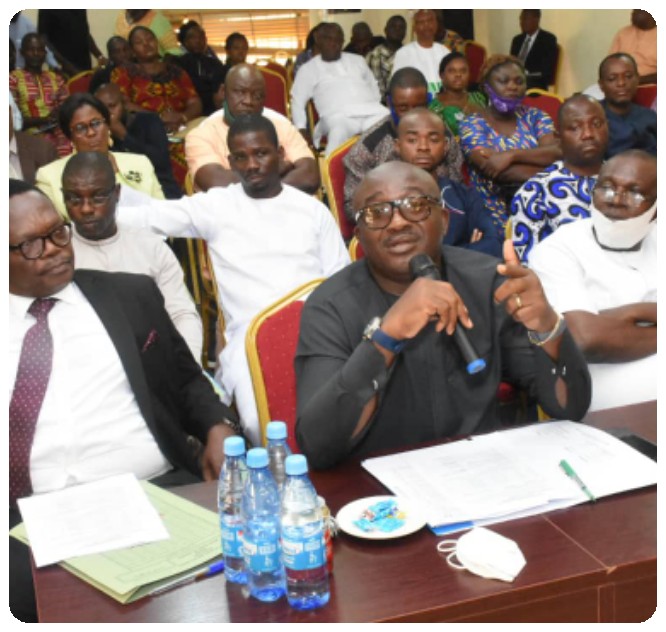 The Delta State Ministry of Basic and Secondary Education has raised an alarm over what it described as the growing pressure from the political class against its policy and drive of posting teachers to rural areas of the State
The Commissioner in charge of the Ministry, Chief Patrick Ukah raised the alarm when he appeared before the Hon Charles Emetulu led State House of Assembly Committee on Education to defend the Ministry's 2021 budget.
The Commissioner explained that the challenge has been impacting negatively on its vision of ensuring robust and equal standard of education at the rural areas as it applies to the urban cities.
Chief Ukah described the development as worrisome, and sought the assistance of the House committee through legislative proceedings in ensuring that influential personalities desist from mounting undue pressure on the Ministry in relation to the posting of their relations.
The Commissioner also stated that regular vandalisation of the school properties by unidentified individuals was another challenge confronting the Ministry.
While asking for enhanced budgetary allocation for the Ministry, Chief Ukah said, the level of vandalism witnessing in schools at present was becoming worrisome.
He noted that almost every year, government keep providing furniture to some of the Schools, yet, dearth of chairs and desk continued as the ones provided have always been vandalized.
The Commissioner explained that the ministry has set up an advocacy committee made up of traditional rulers, youth bodies, and community vigilante organisations that would help in checking the ugly trend.
The chairman, House of Assembly Committee on Education, Hon. Charles Emetulu assured the Commissioner of members' preparedness to collaborate with the ministry in addressing the scourge and other negative narratives through
effective legislation.
Hon Emetulu who represents Ndokwa West Constituency stated that it would be wrong for the Committee to appropriate money and sit down seeing the monies go down the drain.
He noted that as government, political will was needed in it efforts at sanitising the state Education sector, stressing that the issue of circumventing procedures by the political class in the posting of teachers to rural areas must stop.
Hon Emetulu explained that there is a law and an existing policy to that effect, pointing that the policy should be strictly adhered to.
Also before the Committee to defend their 2021 budget estimates were the Post Primary Education Board, PPEB and the State Universal Basic Education Board, SUBEB.