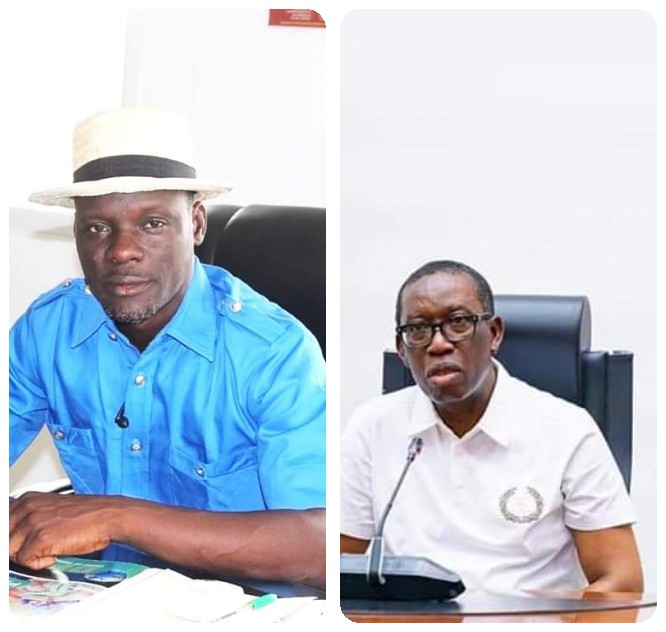 A Delta State born human and environmental rights activist, Comrade Sheriff Mulade has called on Governor Ifeanyi Okowa of Delta State to be more proactive and adopt pragmatic steps to alleviate and cushion the suffering of citizens in the state to save Deltans from the deadly Coronavirus.
Comrade Mulade who speak with journalists at his country home in Benikrukru Town, Gbaramatu Kingdom, Warri South West LGA of Delta State expressed worries over the welfare of Deltans, especially their sources of feeding, saying that; "these are poor ordinary citizens that makes daily incomes for living through daily outings".
Comrade Mulade who is the National Coordinator of the foremost Non Governmental Organisation with headquarter in Warri commended Governor Okowa for the continuous update of Deltans about the deadly global pandemic and dissemination of WHO guidelines to sensitize the people.
He also lauded the Governor for taking bold steps in the closing and the locking-down of border points to the state and restricting movements which according to him is a welcome development, adding that; However, its goes beyond staying at your comfort zone in the Government house by issuing government political policy statements to prevent and curb it".
He said; "Our amiable Governor, Senator Dr Ifeanyi Arthur Okowa at this trying time must be encouraged, supported in prayers so that jointly and collectively they could overcome the challenges in the State, but Mulade believes that Government should do the needful by helping the citizens beyond issuing preventive measure as well as guidelines from WHO and the Ministry of Health".
He stated that "Governor Okowa should look forward to adopting practical steps and good measures to save Deltans. Such steps he reasoned should be devoid of political affiliations or party interest and ethnic correlation as the circumstance before the world and Nigeria is health related, according to him, the challenges are not related to politics as the people are not in a political campaign atmosphere where politicians could discredit and criticize each other or gather in affiliations.
The situation is such that party interest and differences must be burried where for politicians and none politicians alike must all support the state government to save Deltans and Nigeria at large", he added.
According to him also; "It is imperative to call on Governor Okowa to begin alternative and palliative measures by purchasing and distributing food items to citizens of the state, which is more important to save their lives rather than continuous threats of restriction of movements and closure of entry points to the state which is equally necessary but the citizens must be alive to overcome this coronavirus pandemic to enjoy the state government infrastructural plans".
In his words; "I want to strongly appeal to our Governor to kindly reach out to Deltans at this trying time with food items directly to save lives immediately, such food items to citizens should be devoid of politics because if the pandemic persist most Nigerians particularly Deltans will die of hunger and starvation as trades are already taking advantage of government inability to control and the market situation. Therefore, our Governor should as a matter of urgency embark on the purchase and distribution of food items through Ethnic and Community Chairmen leadership devoid of party or government interest but should be properly supervised by a committee, Delta State CORONAVIRUS Food Monitoring Taskforce for transparency and accountability. This strategy to the best of my knowledge will help the Government to reach the grassroot.
Comrade Mulade noted that the format suggested should be adopted so that the receiving communities could monitor and collect their legitimate share and the ethnic leadership and Community Chairmen integrity will be at stake, while stringent measures like what has been advanced will stop our political office holders from hijacking and reselling the items".