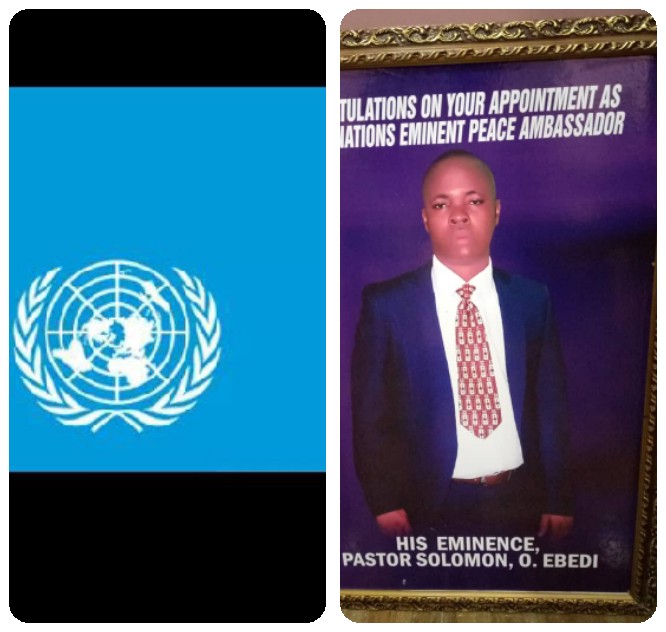 By Patrick Ochei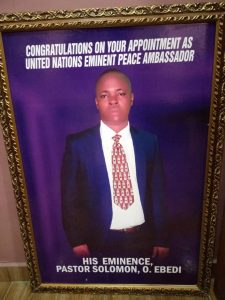 A Clergyman based at Oleh in Isoko South LGA of Delta State and business man, Pastor Amb. Ebedi Oroh Solomon has been recognised with an award of Eminent Peace Ambassador by the United Nations.
Ebedi who is the pastor of Jesus Dynasty Ministry a.k.a Christ Family, Oleh was recognised based on his peace advocacy and works of charity by the International Association of World Peace Advocates under the United Nations Peace Volunteers.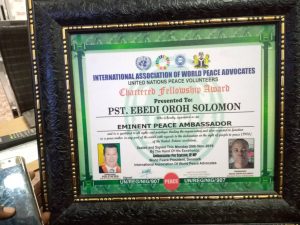 It was learnt that this eminent recognition would see Pastor Ebedi carrying out projects, especially in the areas of peace advocacy in several countries of the world.
Recently, our correspondent had an encounter with this internationally recognised clergy but based in Oleh, and decided to know more about him.
According to him, "I was in my house when the invitation letter came for the recognition. I didn't lobby for it, neither did I trouble myself to get it.
"I heard that people spend lots of money to lobby for such recognition. But I just got it. And when I asked how, they reminded me of the things I had been doing which the UN had been taking note of.
"That is UN for you. If you merited it, then you indeed merit it. I was doing my little charity works around, preaching peace and sharing love in the manner that our Lord Jesus Christ had taught us in His Word. I didn't know it would open more international doors for me. So I thank God and return all the glory to him alone", Amb. Ebedi explained.
A little dig into Amb. Ebedi Oroh Solomon's background, we discovered he was a selfless giver and passionate philanthropist whose works of love had seen many children of the less privileged through school and others outside the shores of this country for better future.
Aside this international recognition by the UN, Pastor Ebedi remains a delight for awards and recognitions from reputable organisations that honour personalities for their good works and sterling achievements for others to emulate.