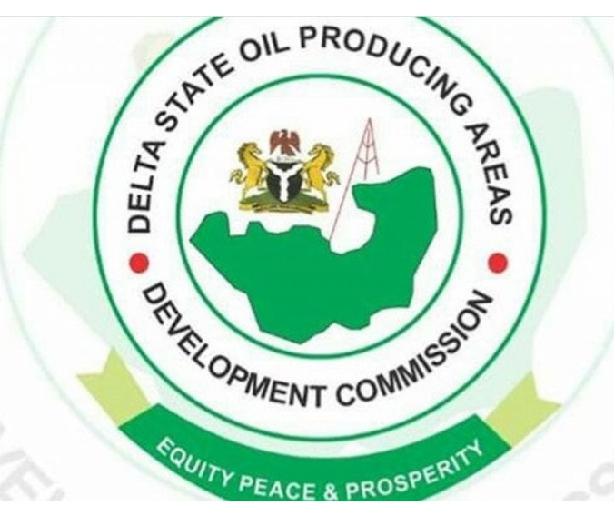 By Iteveh Ekpokpobe –
Leaders and youths of Ndokwa East are at daggers over who takes charge of the Delta State Oil Producing Areas Development Commission (DESOPADEC's) ongoing monthly allocation for Clans and Community Youth Presidents.
The leaders of the Area are fighting over who holds the reins to the soul of what goes on, and how it goes, as it relates to government patronage, an investigation has unveiled.
It was learnt that the DESOPADEC allocation in question, originally N20 million naira, was cut to N10 million since Governor Ifeanyi Okowa assumed office.
The money as gathered is provided by DESOPADEC to all oil bearing and producing ethnic nationalities in Delta State in order to check vandalism and youth restiveness.
While slashing the pay for the youths, the governor had directed that only community and clan youth leaders, where the oil installations are located, were to benefit from the funds, adding that all youth pressure groups should collapse and return to their communities.
As at today, several protest letters, petitions and communiqués are flying from both sides of the divide in Ndowka East over the allocation.
Call Obielum, Akazor Others To Order, Youths Leaders To Okowa
A group, Ndokwa East Clan/Community Youth Presidents Forum has accused Hon. Nnamdi Ezechi, Hon. Chika Ossai, Hon. Ikechukwu Akozor and Chief Godswill Obielum for active connivance with the Delta State government apparatus to deliberately divert the DESOPADEC Stipends meant for statutory Clan Youth Presidents to Non-Community Youth Presidents that are loyal to them.
They are arguing that the actions of these leaders were sidelining the authentic youth leaders in Ndokwa East as a contained in a Communiqué issued at the end of a meeting in Kwale, at the instance of Hon. Tony Ndanenu and Comr. Benjamin Onwubolu the following facts were unraveled.
According to them, Hon. Nnamdi Ezechi has used his influence as Executive Assistant to the Governor on Youth Development, to shortchange and substitute the names of authentic clan youth Presidents that have been shortlisted for ambassadorial appointment, replacing them with Non Community Youth Presidents.
Amongst other claims were the exclusion of the members of the forum from the ongoing Ministry of Youth programme, ongoing for illiterates and semi illiterate Youths in the rural areas as well as the lack of appointment/ employment of virtually all Clan Youth Presidents in the forum.
The crux of the communiqué is an appeal to the State Governor, Senator Ifeanyi Okowa, to prevail on the accused leaders for due diligence.
However, the communiqué stressed that should all entreaties fail, the forum would have no other option than to embark on massive Protest against the Delta State Government for usurping their rights.
I will be worried if … Akozor, Others Respond
In response, Commissioner representing Ndokwa East in DESOPADEC, Hon. Ikechukwu Akozor said the allegations were flimsy since he was not accused of diverting the monies for his private use.
He said other groups and youth leaders have responded to the allegations appropriately hence he would not waste his time to say more.
"Where I would be worried is if they say I diverted the money into my private purse. But they didn't say that. They claim to be representing some youths. Some other youths have also replied them. I don't want to have media issues over them." he stressed
Although, calls and text messages placed across to Hon. Nnamdi Ezechi and Chief Godswill Obielum were neither answered nor responded to at press time, Hon. Chika Ossai in a telephone call, distanced himself from the allegation, stating that 'I am not working in DESOPADEC and do not know where and how the said money is collected.'
Ossai said, "If they have proof then it's understood. I have never seen the money. It is not paid in my office. Ask them to give you document with my signature approving the diversion."
He urged the group to provide evidence of document of his involvement in the alleged dealings.
Claims are Fraudulent, Sponsored – Another Group Reacts
Another group, Ndokwa East Community Youth Council, NECYC, has described as fraudulent, claims by Ndokwa East Community and Clan Youths Presidents.
They argued that both Tony Ndanenu and Onwubolu Benjamin were not Clan Presidents, hence lacked the powers to make such claims.
In a communiqué issued at the end of an emergency meeting and signed by Comr. Bright Enuesike, President General, NECYC; Comr. Ekene Precious Odunuwe, Secretary General, NECYC and Comr. Alex Ediwe, P.R.O, NECYC, the group accused Tony Ndanenu and Benjamin Onwubolu a.k.a Benbestic, of allegedly diverting funds meant for Ndokwa Youths from DESOPADEC and the Niger Delta Development Commission (NDDC) with the support of the member representing Ndokwa East in the Delta State House of Assembly, Hon. Friday Osanebi, over the years.
Although, the State Commissioner for Trade and Investment, Hon. Chika Ossai had debunked claims of his involvement in the saga, the NECYC listed him as one of those who endorsed their list.
According to the communiqué, "all Clan and Community Youths Presidents and selected Clan Youths leaders in Ndokwa East are the present signatories of the OFN in Ndokwa East. This was adequately ensured by Hon. Ikechukwu Akuzor, Ndokwa East Representative on the Board of Desopadec, Hon. Nnamdi Ezechi, the Executive Assistant to the Delta State Government on Youths Development, Hon. Chika Ossai, honorable commissioner for trade and investment, and the list is well vetted by our maximum leader Chief Godwill Obielum."
"The legitimacy of the list submitted by Hon. Nnamdi Ezechi, the Executive Assistant to the Delta State Government on Youths Development for ambassadorial recognition by the Delta State Government can be verified in the inclusion of Comr. Afam Oseji, Obikwele Clan Youth President, and Comr. Oliver Ugo Enusoi, Beneku clan youth president."
"NECYC is fully aware of the lobbying Tony Ndanenu did to short change some Clan Youths presidents in the ambassadorial listing using traditional rulers as stooge to achieve an ungodly mission. Our references to traditional rulers include, Igwe Ogeh Ifeanyichukwu of Ase kingdom and the Ogene of Ibedeni, HRM Jonathan Kenegede." They stressed.
I Have Never Worked In DESOPADEC, NDDC – Osanebi
The member representing Ndokwa East in the Delta State House of Assembly, Rt. Hon. Friday Osanebi, has distanced himself from allegations of aiding funds diversions from DESOPADEC and NDDC.
Responding in a telephone call, his Special Assistant (Media), Mr. Agbanashi Obinne said the allegations were spurious, considering that his principal does have a work history of DESOPADEC or NDDC.
He said, "Rt. Hon Friday Osanebi has never worked in DESOPADEC or NDDC and so there is no connection. Does DESOPADEC send money through the House of Assembly? If they have any issue with fund transfer or diversion, they should talk with people working in DESOPADEC or NDDC."
"Those who are speaking, do they have the locus to speak on behalf of Ndokwa Youth Leaders? The real leaders are still serving their tenures. These ones are usurpers. My Principal does not wish to join issues with them please." He stressed.