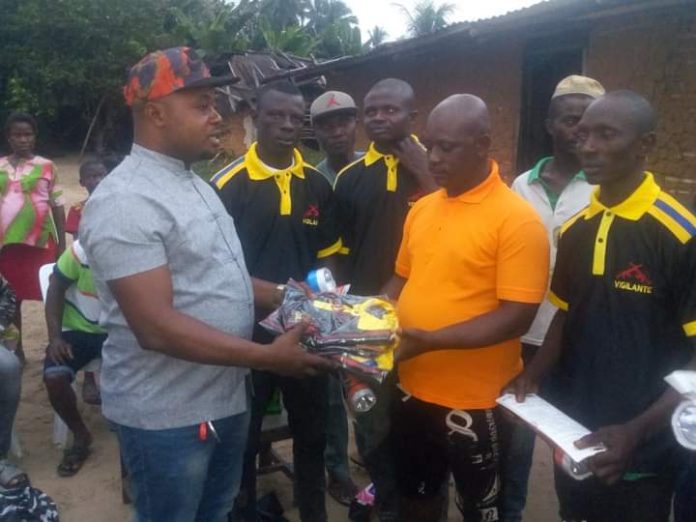 As part of efforts to complement the Governor Ifeanyi Okowa led administration giant stride on security across the state, councillorship hopeful in Sapele Local Government Area of the state Engr Peter Eferurie Adjemiyotan a.k.a Governor Piero has donated security uniforms, flash lights, handcuffs among other security accessories to his community vigilance group to strengthen the security outfits at the grassroots level.
Presenting the materials to the vigilance group at Okuovu community in Sapele LGA, the councillorship aspirant for ward 19
Engr. Adjemiyotan said it became imperative to give them brand recognition, professionalism, sense of pride, minimize criminal activities and peace of mind as security personnel.
According to Adjemiyotan,"I want them to look very neat with sense of pride rooted in professionalism in them just like their colleagues in the cities"
No doubt, providing uniforms also lowers the risk of criminal activities. Having uniformed security officers on the communities serves as a significant crime deterrent, as the officers act as a warning-signal to potential criminals and thieves. Criminals will typically pick the place with the least obstacles to commit a crime, he added.
Adjemiyotan stated that the local vigilance group needed supports and encouragements to enable them effectively police our areas as he commends the state governor for setting up security outfits in the state called "Operation Delta Hawk"
The leader of the vigilance group Omizu Odogu who received the items on behalf of others lauded Adjemiyotan for his philanthropic/humanitarian gestures towards the community.
Citing some of his humanitarian services to the community worthy of mentioning the payment of the entire backlogs of utility bill paid, provision of portable water, renovation of dilapidated buildings belonging to the aged, empowerment of women, palliatives doleout to the community before and during the covid-19.
Odogu speaking further assured the community that the vigilance team will put to proper use of all the security items donated by Engr Adjemiyotan Peter.
He reiterated their commitment to do their best in protecting lives and properties within their coverage areas.