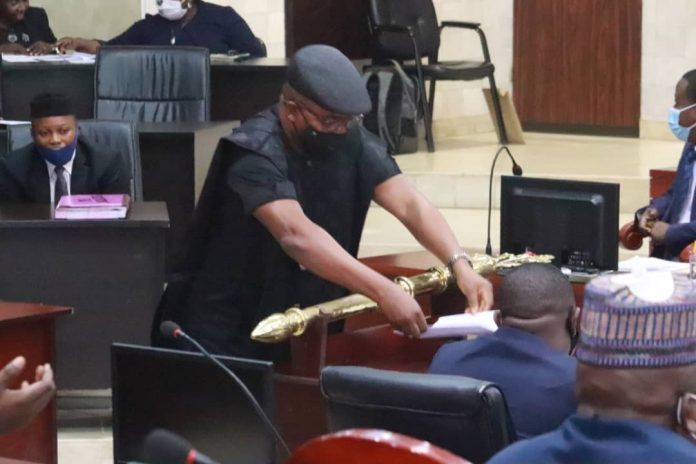 The Delta State Local Content Agency Bill has been read the third time and passed on the floor of the State House of Assembly.
The passage of the bill was sequel to a motion to that effect by the Majority leader, Hon Tim Owhefere and adopted, after the consideration of report of the Hon Ebipade Pullah led Committee on Environment, Oil and Gas, during Wednesday's plenary of the House, presided over by the Speaker, Rt Hon Sherrif Oborevwori.
The House had earlier dissolved itself into a committee of Whole to consider the report as presented to it by Hon Pullah, whose committee scrutinized the bill after it second reading by members.
At the Committee of Whole House which was also, presided by the Speaker, Rt. Hon. Sheriff Oborevwori as Chairman, saw the Lawmakers examine the Bill clause by clause before it was read the third time and eventually passed.
Reacting to the development, the Speaker said the bill when eventually assented to by the State Governor, will mandate companies operating in the state to, as a matter of necessity, maintain at least 70 per cent local content in their workforce.
Rt Hon Oborevwori thanked members for their patience throughout the consideration of the Bill and most importantly for their diligence in ensuring they had a successful Committee of the Whole.
He also commended the lawmakers for what he described as their unalloyed commitment, dedication and display of wisdom in their submissions during debates on the bill.
in his reaction, the Chairman House Committee on Environment, Oil and Gas, Hon Ebipade Pullah, described the passage of the Bill as timely and a welcome development in the state.
While commending the initiative of the drafting of the bill, Hon Pullah who represents Burutu 2 Constituency in the House, noted that the proposed law will not only enhance employment generation, but will reduce to the barest minimum agitations by Host Communities.
The Lawmaker stated that the aspect of technology transfer in the new law was very commendable as it provided opportunity for the people to be educated which would automatically boost their level of competence.
Hon Pullah emphasized that the proposed law will certainly improve the socio economic lives of Deltans, stressing "the signing of the State Local Content Bill by the Governor, will usher in a new dawn in Delta State".
The Lawmaker disclosed that a public hearing had earlier been held on the bill to get the inputs of the public, saying that the presentations and submitted memoranda by stakeholders were very helpful in the making of the new law.