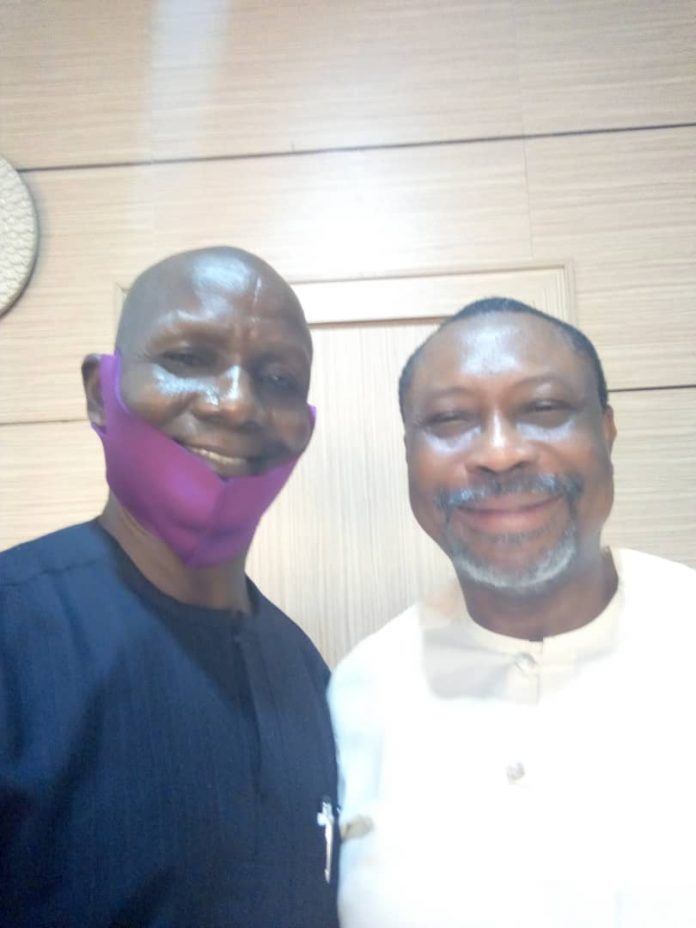 Head of Service, HOS Delta State Government, Mr Reginald Bayoko, mni, will be attending the official opening ceremony of the 2nd edition of the state strategic communication workshop organised by the Office of the Executive Assistant (Communications) to the Governor in conjunction with the office of the Secretary to the State Government.
Bayoko, who also attended the opening ceremony of the first edition in 2019, commended the state governor, Senator Dr Ifeanyi Arthur Okowa, for his visionary leadership especially for investing heavily in human capacity development, vocational and skills training programmes as well as job and wealth creation as encapsulated in the SMART and Stronger Delta master plan.
The HOS who played host to EAC Fred Latimore Oghenesivbe in his office on Tuesday 1st December, 2020 noted that effective communication and media crisis management is an integral part of good governance because it entails the efficient dissemination of government achievements, policies and programmes in the face of multifaceted media politics.
He commended the governor's EAC for his excellent skills in result oriented communication strategies, describing him as a rare breed who is well equipped and gifted in his calling and chosen career.
"I will personally attend the second edition of your workshop on Dec 8, because of the huge success of the first edition in May, last year.
"I must not fail to commend His Excellency the governor, Senator Dr Ifeanyi Arthur Okowa, for his good governance initiatives and for his deliberate efforts in human capacity development, job and wealth creation which drastically reduced the rate of unemployment and poverty in the state, and still counting.
"I have no doubt in my mind that the second edition shall be improvement on the first. It is my prayer that God keep you in good health and give you more positive ideas to discharge your assigned responsibilities, which I must say, you have done excellently well since you assumed duty as EAC to the Governor," Bayoko said.
Gov Okowa's EAC, Oghenesivbe thanked HOS Bayoko, for his huge support and quality advise which helped tremendously in his efforts to discharge official responsibilities.
The second edition of the EACGOVDELTA Strategic Communication Workshop with the them "Effective Communication and Media Crisis management In Governance: Challenges & Solutions" is scheduled to hold from 8-10th December, 2020 at Orchid Hotel, Asaba from 9am to 5pm daily.
Emeritus Professor of Mass Communication and former HOD, Mass Communication Department, University of Lagos, Prof. Raph Akinfeleye will be the Chief Trainer, to be supported by Prof Godwin Oboh, HoD Mass Communication Dept, Benson Idahosa University, Benin; Dr Emmanuel Biri, Associate Professor of Mass Communication and Journalism, Delta State University, Abraka; Mr Kola Ologbondiyan, National Publicity Secretary of the Peoples Democratic Party, PDP; and Mr Mike Oputa, former General Manager of the Pointer Newspapers.
Governor of Delta State, Senator Dr Ifeanyi Arthur Okowa is expected to declare the workshop open at 10am on 8th December, 2020. All invited guests are to be seated on or before 9:30 am.
A total of 150 participants are expected at the workshop comprising; media aides to the governor, government spokespersons, Journalists, social media influencers and bloggers.
#eacgovdelta