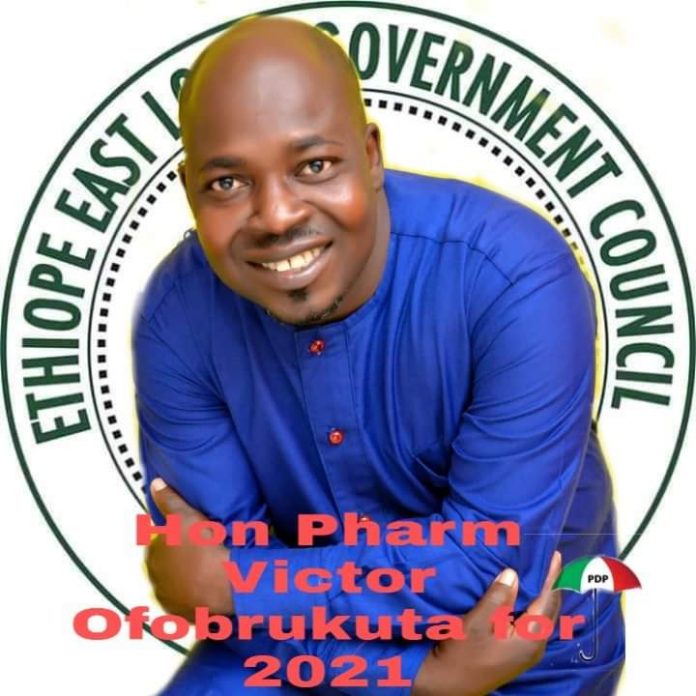 #NewsRazor.
The immediate past leader of the Ethiope East Council Legislative Arm, Hon (Pharmacist) Victor Ofobrukueta, has emerged as the new candidate of the Peoples Democratic Party, PDP, in the forthcoming local council elections.
Ofobrukueta is described by political observers and vast majority of party faithfuls as a perfect gentleman, goal oriented and a worthy son of Agbon Kingdom.
The former candidate, General Augustine Ogedegbe, was said to have voluntarily stepped aside due to circumstances beyond his control, and will always be relevant in the scheme of things and in the political family.
Reacting to the development, a party chieftain and Executive Assistant on Communications to the Governor of Delta State, Barrister Fred Latimore Oghenesivbe, congratulated Ofobrukueta and pray God to grant him divine wisdom to take the council to the next level, saying that there is no doubt that the PDP candidate will sweep the polls based on his popularity, integrity and close connection to eligible voters in the LGA.
"Ofobrukueta is a sound and highly resourceful individual, a party loyalist and he exhibits a good measure of humility, performance promise, strength of character and foresight required to bring uncommon development to the council area, going forward," he said.