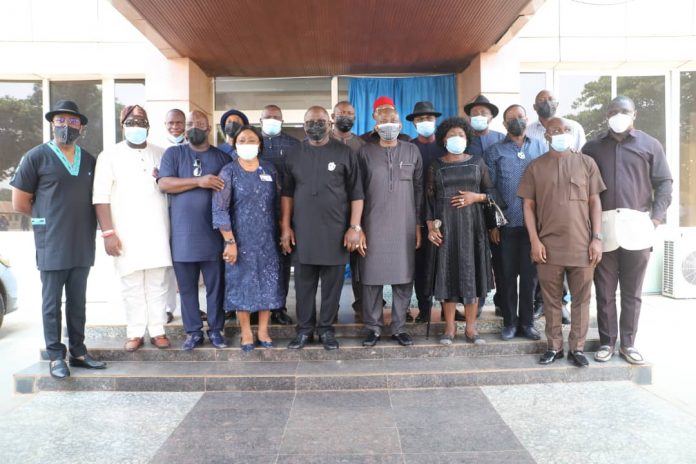 The Speaker of the Delta State House of Assembly, Rt Hon Sheriff Oborevwori has said that the vacuum created by the sudden demise of the Majority Leader of the House, Hon Tim Kome Owhefere will be very difficult to fill.
Rt. Hon. Oborevwori who spoke when Delta State Caucus, House of Representatives paid him a condolence visit in his office on Thursday lamented the death of the late Majority Leader, Hon Owhefere, saying "his death came as a rude shock", but said that God cannot be questioned on why it happened.
The Speaker said that; "We want to appreciate you for this condolence visit today. This is a great show of love. Your visit today is a bond between the Delta State House of Assembly and members of the Delta State Caucus of the House of Representatives.  It is very unfortunate that it happened. The vacuum created by his death will be very difficult to fill and it is going to be very hard to see who will fit into his shoes. He achieved a lot".
"He was very loyal. We have really lost a great lawmaker in the state, but we cannot question God who gives and takes. You have said it all about Hon Tim Kome Owhefere. He was a very brilliant lawyer, fine legislator; when he opened debate, other members were always  encouraged to contribute", he added.
The Minority Leader of the House of Representatives, Rt Hon Ndudi Elumelu had said that; "We are here because something sad happened. We came here today to condole with you. But it is painful and that is why we have come to condole with his Colleagues.  He was very humble, you cannot take that from him. He was very unassuming. He was very loyal and believed in our political family. He was a good team player but unfortunately nobody expected this to happen. It is painful the way he left. But we cannot question God. Take our message to the family. May God grant him eternal rest, Amen".
Those who came on the condolence visit include Rt. Hon. Ndudi Elumelu,  Hon. Nicholas Ossai, Hon. Efe Afe, Hon. Ben Igbakpa, Hon. Julius Pondi, Hon. Thomas Ereyetomi, Hon. Francis Waive and Hon. Loveth Idisi.