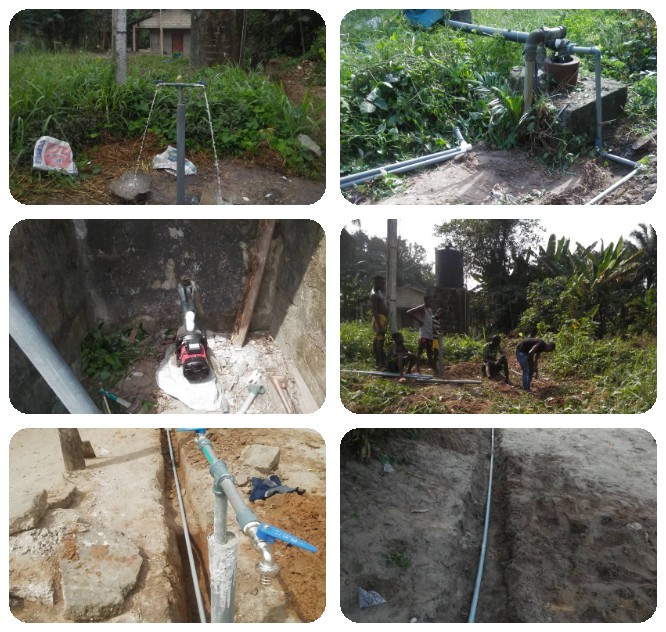 Water is life, and clean water means health, while health means wealth. Unarguably, fresh water is necessary for the survival of all living organisms on earth and scientists posited that the human body is made up of about 60% of water.
This therefore explains the importance of water to man's daily needs which are economical, social, spiritual among others.
In most areas where water may be readily available but not portable for human consumptions, which underscores the popular saying, "Water everywhere, but no hygienic water to drink".It is therefore stating the obvious to say that water is indispensable for the survival of life.
Despite the availability water from rainfalls, river water and personal water wells, dug by individuals, access to clean water remains a major problem in Amuokpokpor-Elume community in Sapele Local Government Area of Delta State until Late Chief (Dr.) P.O Omuvwie JP facilitated the building of the water project during the defunct Bendel State Government in the early part of the 90s to provide the entire community with portable water.
It was first of its kind in the rural areas of the Sapele Local Government Area. Residents from neighboring communities, even from far distances came to fetch water from the installed borehole pump.
After two and half decades, the 45,000 litres capacity collapsed, thereby depriving the community quality water for decade before Honourable (Engr.) Emmanuel Okpemagware Omuvwie, Senior Special Assistant (SSA) on Project Monitoring and Evaluation to the Governor of Delta State, Senator (Dr) Arthur Ifeanyi Okowa, community Philanthropist Mr. Kenneth Eninobor and others came together to restore the community water.
Commenting on the development, the community chairman, Mr. Efe Obule, commended Omuvwie, Eninobor and others that brought about the restoration of the community water, saying that every compound in the community now had a stationery water tap running, just as he maintained that with such gesture, the risk of being infested with water born diseases had been greatly reduced among residents in the area.
The community chairman called on Government at all levels to construct another water project to solve the water need of the people because the community is expanding daily.
He however appealed to other well meaning sons and daughters of the community to emulate the kind gestures of Omuvwie and Eninobor for always attracting social amenities to the community.