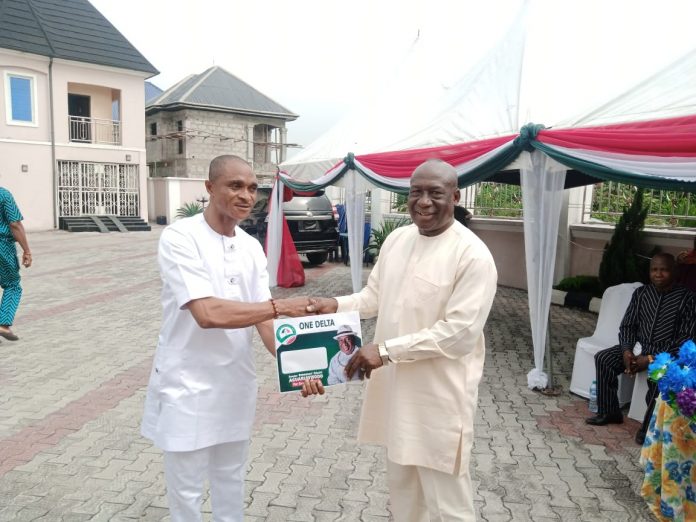 The chairman of the Peoples Democratic Party, PDP, in Isoko South Local Government Area in Delta State, Odio Obaro Godspower has said that Frontline Governorship aspirant, Senator Emmanuel Aguariavwodo has the experience and the ability to govern Delta State.
Obaro who was addressing the leadership and members of the Peoples Democratic Party, PDP, Isoko South and Senator Emmanuel Edesiri Aguariawodo and his team who had come to consult them on his governorship ambition also said there was something special about the name Aguariavwodo.
"The Senator came to see me two months ago and the same thing he said then was what he has repeated here today. I have been hearing your name about fifteen to twenty years ago and for the name to keep ringing in our ears it means there is something good about it, he said.
"Before one would rise to the position of contesting for House of Representatives, and then to Senate winning all these election, and then as Managing Director of NDDC, it means that you have the experience, you have the capacity, and the ability to govern Delta State" he however stated that what they need was a governor who would start from where the present governor would stop.
Addressing the PDP faithfuls earlier, the Delta Governorship hopeful, had said he was the most qualified man for the job.
"I have been fighting for Delta State, from Derivation shortfalls in the early 1990s to the setting up of the NDDC. In the House of Representatives, it was just me and some few persons, with our knowledge of the oil industry, we were able to come together to contribute and insist on the financial provisions of the NDDC as it is today adding that when he later became the MD/CEO of the NDDC then, it was adjudged to be the best run government development agency in the country .
Senator Aguariavwodo also said that he has a blueprint in place to start professional football as well as other sports in Delta State if given the mandate of the PDP and Deltans in the coming general elections. This will in no small way help in solving the unemployment issues in the state which the current administration is also tackling with numerous empowerment programs