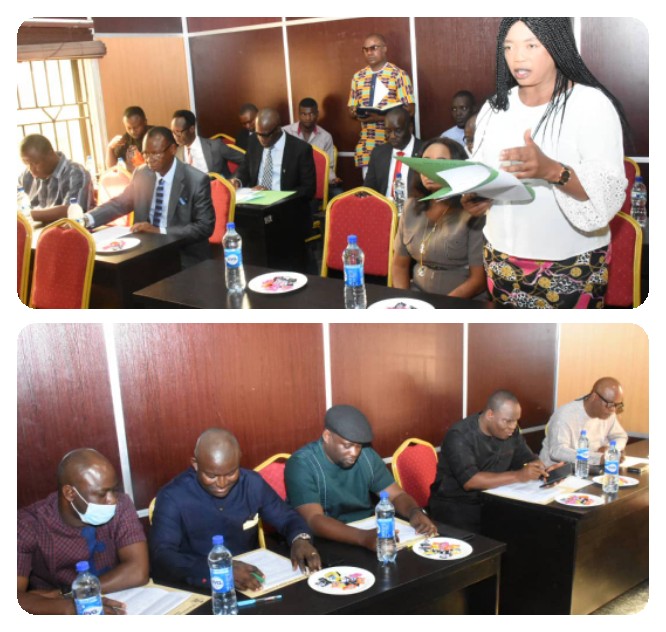 The Delta State Capital Territory Development Agençy has presented its score card to the State House of Assembly Committee in charge of the agency with an appeal for sustained collaboration towards achieving more for the state.
The Director General, Mrs Onyemaechi Mrakpor led other officials of the agency to defend their 2021 budget estimates before the House Committee on Delta State Capital Territory Development Agençy which has Hon Emmanuel Sinebe, an Engineer as Chairman.
The Director General, Mrs Onyemaechi Mrakpor, a Former Member of the State and National Assembly, said sequel to the budgetary allocation of two point nine billion naira as capital budget for the 2020 fiscal year, a great number of projects were executed by the agency between January and October this year.
Mrs Mrakpor disclosed that 28.91 kilometers roads were completed, 26.89 kilometers, ongoing, while 52.62 kilometers were newly awarded, bringing the total length of the roads being handled by the agency in its mandate areas to 108.42 kilometers.
She stated that besides the roads projects, six numbers of SMART Delta Food, Farm Produce and Fruits Arena were constructed at various strategic locations in Asaba.
Also executed according to Mrs Mrakpor, were nine numbers of Green Areas around the city, stressing that the agency is poised to construct more of the facilities in Asaba due to the increasing imperative for the agency to discourage streets hawking and trading in the capital city.
The Director General explained that a total of two point six billion naira which represents eighty nine point six percent of overall budget performance for the period under review, has been released to Contractors as payment for different stages of certified jobs.
For the year 2021, Mrs Mrakpor said the agency has been assigned the sum of five point three billion naira as the new allocation of capital spending limit, while the sum of two point eight billion was appropriated to cover part of the outstanding commitments of the agency, including completed and ongoing projects amongst others.
The Chairman of the Committee, Hon Emmanuel Sinebe who represents Patani Constituency, said there was the need for standard infrastructure in the state capital and expressed happiness over the dogged efforts of the state government to give the city a facelift.
Hon Sinebe flanked by three other members of the Committee including Honorables Oboro Preyor, Festus Okoh and Emomotimi Guwor promised to embark on regular oversight to the agency in the 2021, aimed to promoting quality implementation of its programs.
The Lawmaker commended Mrs Mrakpor and her team for their commitments, even as he called for more robust and cordial relationship of the Director General with every member of the committee.
Hon Sinebe assured the agency of support of the committee at all times.