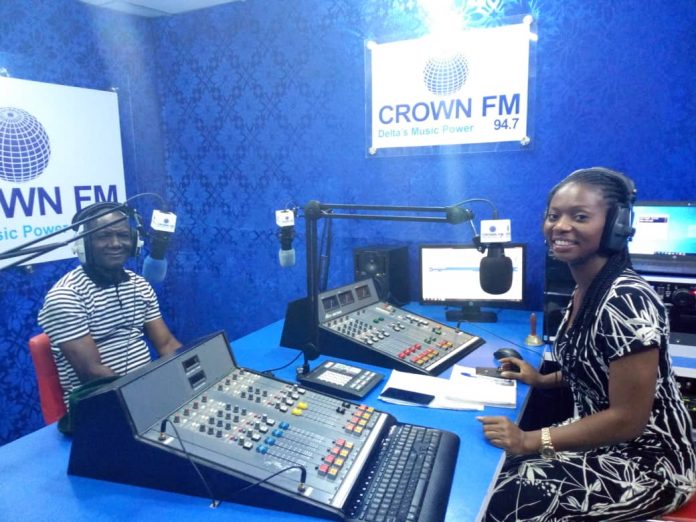 A chieftain of the Peoples Democratic Party, PDP and Executive Assistant to the Governor of Delta State on communications, Dr Barr Fred Latimore Oghenesivbe, JP has berated the All Progressives Congress, APC government at the centre, for failure to fulfil electioneering promises.
He said the increased level of poverty, unemployment, underdevelopment and high inflation rates has made life unbearable for majority of Nigerians, except few APC members at the corridors of power and their immediate families, noting that Nigeria economy remained in comatose since 2015 as as a result of bad governance, and no sign of recovery under President Muhammadu Buhari administration.
Oghenesivbe made the assertion during a public affairs live radio programme christened "Saturday Effizy" on Crown FM Asaba, aired on Saturday 20th March, 2021, and anchored by ace female radio personality, Doreen Obianokor.
He said PDP will win 2023 governorship election in Delta State, because of the multifaceted uncommon transformation under the incumbent governor, Senator Dr Ifeanyi Arthur Okowa, adding that APC Delta may not win election within the next 30 years, as a result of the unpreparedness and unprogressive antecedents of the party in the state.
He posited that Nigerians are eager for change of government in 2023, because of the poor performances of APC national government which failed to bring about positive change in all aspects of our national life, adding that Nigerians have come to the absolute realization that PDP was and still the best party in the country.
Okowa's Chief Communication Strategist and Justice of the Peace, JP, posited that PDP States across the country are making waves and in the South-South geopolitical zone, the governors have resolved to sustain people oriented and people focused policies and programmes and to also establish and operate zonal security outfit that guarantees security of lives and property since the APC national government failed in her efforts to adequately secure the nation.
Oghenesivbe asserted that the revisited Port Harcourt refinery rehabilitation project for which N500 billion has been earmarked, is a product of a carefully planned strategy to hoodwink Nigerians and serve as electioneering campaign toga in 2023, and thereafter return to status quo. He urged Nigerians to beware of APC antics and politics of deception which the party sustained since 2015.
The renowned communication strategist further asserted that instead of removing workers salary from the exclusive list, the National Assembly should genuinely support federalism, and/or remove solid minerals/natural resources like Oil, gold, etcetera from the exclusive list to the concurrent list as a genuine effort towards attainment of regional government or state control of mineral and natural resources.
And on the issue of the £4.2 million repatriated to Nigeria by UK authority, he said equity demands that Delta State should be the beneficiary of the funds, and that the money should be spent on new or uncompleted federal government projects in Delta State; and not in any other state of the federation in line with previous remittance of repatriated funds to Plateau and Bayelsa state governments by the federal government.
He pointed out that, Chief James Ibori is undergoing political victimization due to his past advocacy for resource control and for stepping on powerful toes as a result of his political sagacity, noting that no past Nigerian President or governor is a saint, and that to single out Ibori for consistent persecution amounts to selective justice. Selective justice is the mother of injustice.
"No matter the political persecution, Chief Ibori will continue to retain his enviable position as a consummate political leader and a Democratic who contributed immensely to the growth and stability of constitutional democracy in Nigeria," Oghennesivbe added.