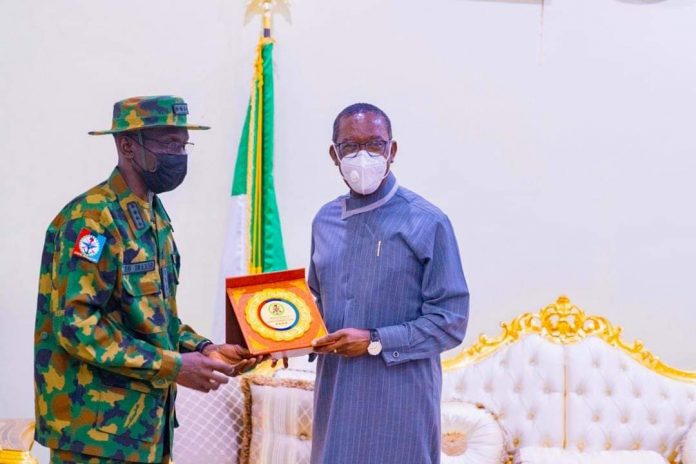 By Fred Latimore Oghenesivbe, Esq.
#eacgovdelta
National security has been in the front burner of our national discuss for over five years, with no clear cut solutions. The nation is gradually disintegrating due to high degree insecurity despite billions of Dollars released by the federal government under President Muhammadu Buhari, to curb Boko Haram insurgency, kidnapping and criminal activities of Fulani herdsmen in Nigeria.
During the 2015 presidential campaign across the country, President Buhari, assured Nigerians that insecurity, especially Boko Haram insurgency, kidnapping and criminal activities of Fulani herdsmen will be a thing of the past within twelve months of his administration if the All Progressives Congress was voted into power at the centre.
Buhari blamed the insecurity on the negligence and lack of fire power strategies by the federal government under former President Goodluck Jonathan, and assured Nigerians that peace and adequate protection of lives and property will be attained within a very short period of time, because he knows what to do as a Gorilla warfare strategist cum former military head of state. Nigerians believed Buhari, and voted for the All Progressives Congress, APC, in 2015.
He also berated the Jonathan's administration for high foreign exchange rates at N150 to a United States Dollar, N210 to a British Pound and denied the existence of fuel subsidy, calling it a scam cleverly orchestrated by the Peoples Democratic Party, PDP. In the past five years of Buhari administration fuel subsidy remained top in his agenda and priority, Naira slides to N550 to the a USD and N800 to £1, and still rising. No thanks to President Buhari.
Buhari also wept over high cost of pump price of fuel at N86 per litre and promised to bring down the price to N40 per litre and assured citizens of his ability to make Nigeria refineries function in full capacity, restore 24/7 power supply within two years if voted into power. The pump price of fuel is now N167 while electricity tariff went up with over 300 per cent. Again, no thanks to APC national government.
There were several other promises made in 2015 and 2019, and Mr President is yet to fulfil any electioneering campaign promises after five years in office. The greatest of the unfilled promises is Boko Haram insurgency and Fulani herdsmen lawlessness, and failure to transparently fight corruption in Nigeria.
Insecurity has become frightening to the extent that State Police Commands are being set ablaze in broad day light by arsonists while the federal government watch helplessly. Nigerians slept with one eye closed and the other watching over their loved ones and property. It is indeed a worrisome state of affairs like never before in the history of our nation.
The recent appointment of the Chief of Defence Staff, CDS, General Lucky Irabor and other Service Chiefs; for the Army, Navy and Air Force, rekindled the hope of Nigerians because of the positive antecedents of some of the new Service Chiefs, especially the CDS, a man who Many security analysts described as a highly disciplined and result oriented officer.
Irabor is rated as one of the most brilliant warfare strategists, and he played a major role in pushing back Boko Haram insurgents while he held sway as the Commander of Operation Lafia Dolle at the peak of the insurgency.
He came calling last Thursday at the Government House, Asaba on a courtesy visit to the state governor, Senator Dr Ifeanyi Arthur Okowa. It was a home coming for the CDS, who hails from Ika Nation in Delta North Senatorial District of Delta State. General Irabor, is a super Deltan, a detribalized Nigerian and the highest in rank, in the nation's military hierarchy of the three armed forces.
At the media parley, the new CDS and war strategist reechoed the military willpower to implement the shoot-at-site order targeted at any citizen found with AK-47 and other weapons illegally acquired. He emphasised the need for a synergy between the military and other security agencies to ensure that Mr President's order is carried out to the last letter.
General Irabor also thanked Gov Okowa for his good governance strides especially his monumental support in the area of partial funding of logistics, provision of operational vehicles, security gadgets and other strategic arrangements for effective operations by the military and other security agencies in Delta state.
Both leaders agreed on the need for consistent synergy between Delta State Government and the military to further enhance the level of peace and security in the state, without compromise. Gen Irabor traced part of the nation's insecurity to illegal arms and light weapons in circulation, and assured Nigerians and the good people of Delta State, that peace shall return to the country, sooner than later, and under his supervision as CDS.
"Nigeria as a country forbade illegal bearing of arms, and anyone found with such weapons will be treated as an enemy of the state.
"The mandate of the President for dealing with everyone holding AK-47 illegally is a mandate that must be enforced because we are a state that does not condone illegal bearing of arms.
"The armed forces and other security agencies are the only institutions that are mandated to carry arms in the course of their duties.
"So anyone who is carrying an AK-47 or any other weapon, for that matter, is considered a threat to the existence of the state. The Armed Forces in partnership with other security agencies will do all that is necessary to bring peace and security across the land and Nigeria certainly, will know peace again.
"Delta is my home and it feels good to be home, and I said that I cannot come home without paying a courtesy call on the Executive Governor of the state who has done pretty well, giving very credible support to the members of the armed forces and security agencies.
"I am aware of the threat dispositions within Delta even though it is stable now, but we know that there are areas of interest that we will need to do a lot to add value in up-scaling the security disposition of the state and this is part of what myself and my colleagues were doing.
"I believe that the state will in no time begin to experience greater level of peace and security,'' CDS Irsbor assured.
Earlier, Okowa had congratulated the CDS on his appointment and promotion and urged him to do more to secure the nation.
"I want to use this opportunity to congratulate you again on your appointment and subsequent promotion to the rank of General.
"We have had a very challenging time because of the COVID-19, but when the appointments were made, we were very happy because we believe that it will improve the security situation, with the injection of new strategies.
"I also believe that there is no problem that is insurmountable and with the cooperation of all security agencies we can combat the insecurity in our land.
"I must say that you have started well because I had the opportunity of being at the stakeholders meeting in Abuja and I must commend you for that.
"Here in Delta, we have our own security outfit – Operation Delta Hawk – and we are able to work together in terms of our information gathering.
"We will need more support, especially in the Warri area where we have oil installations because when the place is more peaceful and secure, more industries will come," the governor stated.