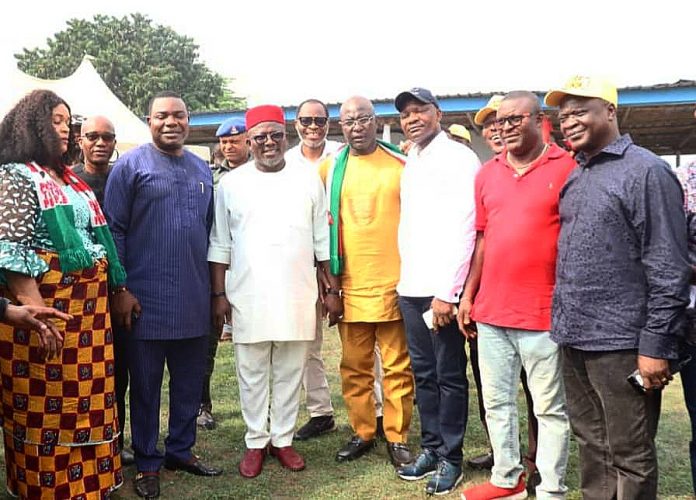 By Fred Latimore Oghenesivbe
#cmpgmedia
Top ranking governorship aspirant and Speaker, Delta State House of Assembly, Rt Hon Sheriff Oborevwori, has said that his administration, if elected governor in 2023, will be all inclusive in terms of political appointments, spread of development and distribution of state resources.
He gave the assurance while addressing leaders and delegates of the Peoples Democratic Party, PDP, in Aniocha South, Ika South and Ika North East on Thursday 31st March, saying that for us to stay united and continue to enjoy peaceful coexistence; stakeholders, elected representatives and political appointees must of a necessity do away with tribal and ethnic sentiments.
Chief Oborevwori further posited that his administration shall be guided by the principles of equity, fairness and good conscience, adding that decisions, actions and inactions that are repugnant to natural justice will be completely avoided to keep Deltans united and prosperous.
"In our collective efforts to build a Stronger Delta championed by our indefatigable governor and state leader of PDP, Senator Dr Ifeanyi Arthur Okowa, we must continue to address issues from broad based perspectives, consider the position and needs of other stakeholders on senatorial basis devoid of tribe and ethnic colouration.
"We must continue to commend and appreciate our governor for being fair and sincere in the spread of political appointments, socioeconomic and infrastructure development across the state. My administration will work very hard to sustain the pace of development ignited by our leader, Gov Okowa.
"I have learnt so much from our governor as a student of Okowa Political Philosophy. OPP is about credible leadership where God lead and we follow Him.
"OPP is about fairness, equity, humility, loyalty, being prudent, a good manager of public resources, being proactive and responsive. I have learnt all of these essential leadership skills from the governor spanning 20 years, and more particularly in the past five years as Speaker and head of the legislative arm of government.
"I am competent and eminently qualified to step into the big shoes of our governor, come 2023. I will not disappoint Aniocha South, Ika nation and I will never disappoint Deltans. Our leaders, women, youth and students shall be carried along. Its going to be an all inclusive government.
"I will deploy my street sense and credibility to positively touch the lives of our people. Your pain is my pain and your problems are mine. I will use my wealth of experience as a successful businessman, politician and lawmaker to do more for Delta State.
"My MORE Agenda captured all aspects of our state economy. It is tailored to align with the Stronger Delta agenda of this administration and to expand the scope of development, sustain and increase funding for job and wealth creation.
"It contains industrialization plan wherein public-private partnership shall be enhanced to attract local and international investors, as well as foreign direct investments. It is a work document that will bring about practical development, not paper theories that is neither visible nor tangible.
"Ika nation is home coming for me. Owa Alero is my second home. The amazing reception you accorded me and my entourage in Agbor and Owa-Oyibu/Alero attests to my claim of son of the soil via political acculturation and leadership training. I am overwhelmed.
"I plead with our delegates to vote Sheriff Oborevwori as party candidate. You will not regret it because I am a detribalized Pan Deltan, a Unifier who have come to advance the socioeconomic fortunes of Delta State, and to build on the monumental achievements of our amiable governor and leader, Senator Dr Ifeanyi Arthur Okowa," Oborevwori said.
The reception ground in Ogwashi-Uku, Agbor and Owa-Alero can best be compared to a political carnival. It was electrifying. All the big names in Anioma nation and Delta State politics were in attendance.
These include; Deputy Speaker, Delta State House of Assembly, Rt Hon Ochor Christopher Ochor, House Leader, Hon Chief Ferguson Onwo, Hon Charles Emetulu, Hon Chief Solomon Ighakpata, Honourable members Representing Ika South, Ika North East, Aniocha South and others. Honourable Commissioner for Finance, Diokpa Fidelis Tilije, State Commissioner for Information, Hon Charles Aniagwu, Director General, Delta State Bureau of Orientation, Hon Barr Uzum aka Okowability, and Manager Communication, Government House, Hon Jackson Ekwugum,
Also in attendance are; Olorogun John Oguma, Chief Patience Okwuofu, Chief Solomon Arenyinka, Chief Tony Oboroh, Chief Tony Uzor, Rt Hon Sunny Emeyese, Rt Hon Evelyn Oboro, Rt Hon Joan Onyemaechi aka Ada Anioma, State Director of Protocol, Hon Ifeanyi Eboigbe, JP, Executive Assistants to the Governor of Delta State on Communications and Chairman, Coalition for Media Politics and Governance, CMPG, Chief Dr Fred Latimore Oghenesivbe, JP, Local Government Chairmen, Councillors, political appointees and Sherrified groups, too numerous to mention here.